Old School Pyar (Part -2) is a continuation Of a Song 'Old School Pyar Part 1 by KeepSake. This is again Produced By Sez. it's like between two point of views one from 12 year old KeepSake and from 21 year old KeepSake. Gap of 10 years.
San Cha
Insane [Prod. Stimey Beats]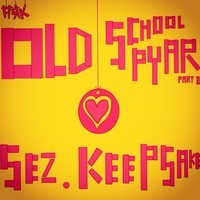 KeepSake and Sez are nominated in VIMA 2013
You can VOTE for them by following these easy steps –
1. Go to www.joota.com/vimaindia
2. Sign up to Joota using either your Facebook or Twitter account. Or you can create your own Joota account.
3. Once logged in, go to VIMA India's Decks.
Best Hip Hop Song: bit.ly/vimahiphop
Best Dance Song: bit.ly/vimadance
Best Genre Bender Song: bit.ly/vimabender
Open these categories and look for my songs,
Jab Mein Girunga and Keep On Walking in Best Hip Hop Song.
A battle in my mind in Best Dance Song
Life is short, enjoy it in Best Genre Bender song.
Just click on the HEART NEXT TO THE SONG and it'll count as a vote.
Old School Pyar (Part-2)
Sez x KeepSake
Produced By Sez –
Art Work By Anuj Rajoria –
Written & Performed By KeepSake –