If you weren't at Bhangra, B-Boys, and Breakbeats on November 4th, you missed out on one of the biggest events of the year!  Musically curated by Desihiphop.com's very own doc bLAdez, the event was put on by Mandeep Sethi, Slumgods, Clenched Fist Productions, Kalakari Collective, and Desihiphop.com and took place at Berkeley's historic La Pena Center in California. The center has been host to some of the world's greatest Hip-Hop artists and November 4th was no different.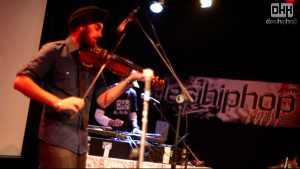 The stage was set for the first act, Bay Area's very own, Ras Ceylon. The Oakland-raised, Sri Lankan emcee (who appeared to be coming from an Occupy Oakland rally), took the stage and control of the mic with some FIRE !  Next on the menu was the new talk of the town, violinist Raginder Momi, aka "Violinder." This young artist from California has been rocking the violin since the age of 11 and dropped the sounds of his violin over 7 tracks, ranging from Jaylib's "The Red," to Panjabi MC's "Moorni," and even some popular house and Drake tracks, and left the crowd begging for more.
Bay Area Royal Bhangra, aka Bar-B Bhangra, was up next. This all-female bhangra team showed the boys how bhangra's meant to be done. The boys must have taken it as a challenge, because the Bhangra Knightz stormed the dance floor right after. These guys wowed the audience and showed them that you can bust a bhangra move to pretty much any kind of music; from Hip-Hop to Electronic Dance and then Bollywood, they covered it all. They finished their routine off by killing the house lights and putting on illuminated Jabbawockeez masks.
The attention moved back to the microphone to witness Toronto duo's LAL perform. Vocalist and poet Rosina Kazi and producer Murr took the stage with a brief introduction. Rosina commented that their style will be "Hip-hop, techno, house, funk, downtempo…whatever you want to call it..it's us." That it was and was it a performance not to be missed. Their eclectic sounds and Rosina's hypnotizing voice put the audience in a daze.
We had some bhangra and some breakbeats, and then it was time for the B-Boys. Enter the San Francisco B-Boys, Burn in the Bay.
This five man crew, led by B-Boy Marty MacFly, tore it up with backspins, flairs, headspins, windmills, air-flairs and every and any other break move you can think of, while doc bLAdez got on the wax with some old skool breakbeats. The the fun really kicked in as bLAdez dropped some classic bhangra tunes and the B-Boys showed that the "B" also stood for Bhangra! Baagi followed Lal performing his smash hit "Baagi Di Vaari" produced by Sikh Knowledge. Baagi also gave way for the performance debut of "Ikager," as they rocked the stage with 4 songs. 
Hoodini & KinG! made their way to their instruments. Hoodini apologized for the "awkwardness" of taking his shoes off in front of people who are not accustomed to it as he prepared for his performance. He proceeded to sit down infront of his tabla as Sethi took a seat next to him. KinG! sat down at the harmonium and signaled doc bLAdez. The four of them put together an amazing musical ensemble.
The man of the hour was up next, as Mandeep Sethi put on a fired-up show. Sethi showed the crowd, and the rest of the world what a true definition of an emcee is. He performed 7 of his tracks, including "Saber" produced by KinG!, "Activating Souls," and "Aisee Taisee" produced by Sikh Knowledge. Sethi also broke it down, ripping freestyle verses over dubstep as doc bLAdez provided Sethi with scratches and audible adlibs. This man is definitely one to be watched as he travels the globe spreading his message of peace, education, and Hip-Hop.
The night ended with doc bLAdez taking control of the dance floor alongside Bhangra Knightz' dhol player. bLAdez started his set out in his classic Bhangra, Hip-Hop, turntablist manner but then quickly flipped to some hard hitting bass with some groundshaking Bhangra, dubstep mixes, ridiculed with scratches and dj trickery. The event was only scheduled until midnight, but could have easily gone until 3am.
On behalf of all the performers and other sponsors of Bhangra, B-Boys, and Breakbeats, Desihiphop.com would like to thank all the fans for making this event such a smash. Bhangra, B-Boys, and Breakbeats was a historical event and Desihiphop.com also hit 10,000th fans on Facebook. BIG TINGS!
Download doc bLAdez tribute to this event here:
[wp_media media="audio" title="The 5abi B-Boy Vol II " artist="doc bLAdez vs Tru Skool" volume=0.8 start="on" preload="on" urls="http://desihiphop.com/wp-content/uploads/2011/10/The-5abi-B-Boy-Vol-II-doc-bLAdez-vs-Tru-Skool.mp3″]