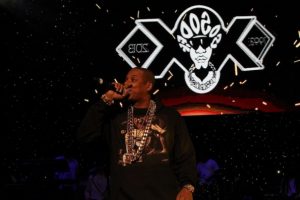 Jermaine Durpi celebrated So So Def's 20th anniversary by putting together an All-Star concert at the Fox Theatre in Atlanta. JD pulled out all the stops as the night featured performances and appearances by Young Jeezy, Mariah Carey, Da Brat, Bow Wow, T-Pain, Nelly, Anthony Hamilton, Monica, Usher, Ludacris, Lil Jon Bone Crusher and J-Kwon. The biggest surprise came at the end of the night when Jay-Z hit the stage to perform 'Money Aint A Thang', 'Public Service Announcement', 'Niggas In Paris' and 'Clique'.
Update: Added footage of JD bringing out Young Jeezy, Usher, Ludacris, Lil Jon, Monica, Mariah Carey, Da Brat Bow Wow and Kris Kross.
Watch the performance below.