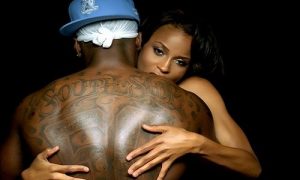 50 Cent and Ciara have been secretly seeing each other for years, but word on the street is that ever since 50 started dating Chelsea Handler, Ciara moved on and is now seeing NY Knick Amar'e Stoudemire.  50 Cent called Ciara a stalker on the Howard Stern show and then the twitter beef started last night when 50 tweeted he had just visited the Playboy mansion and now wants to be a pimp.  50 Cent asked his Twitter followers to get at him if they want to have him as their pimp.  His female fans replied trying to get their dirty talk on and all hell broke loose:
50 Cent:
"I just left the play boy mansion. I think I want to be a pimp now. Sh*t I have strong pimp qualities. Lol…I'm looking for girls to start my new line of work. Are there any strong potential hoe's on tweeter right now. Lol"
Ciara:
"The things people tweet say a lot about their character, pay attention!:)"
50 Cent:
"Yea I tweet things that reflect my character b*tch. I have a sense of humor get one.lol that's why your 3 mill followers behind me."
Ciara:
"ooohh, tell em why u mad b!"
50 has since unfollowed Ciara on Twitter!!