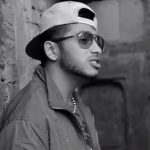 Mojo is "Talking Freely" on this classic HipHop joint. Mojo proves to the world on "Talking Freely" that Hip Hop in India has come a long way and will continue to shine. Heartfelt lyrics on a laid-back track with clean visuals by Nottotune, Mojo is repping hard for his city of Chandigarh!
Mojo is one part of one of the oldest Hip Hop crews from Chandigarh, Desi Beam.  Desi Beam got into Hip Hop things back in 2008 and their "Main haan Desi" track is still loved by the people. Later all the members came with there solo track and again the whole crew came with the track " Naa Dassja".  They've been performing all over India and even alongside Bohemia – so you know great things are coming!
Check out "Talking Freely" below and holla atcho boy Mojo!