Bohemia's Beparwah caused quite a bit of a stir, specially in the Bohemia camp in California. It's a brand new song, that's not a brand new song, but somehow it is. Ok, let me rewind back a few yearshere. Bohemia recorded the song, and shot the video a couple of years ago. But, corporate politics crept up and did what it does best, and delayed pretty much everything! This is not the first time a music label has done this to their artists, and surely won't be the last. However, luckily, trends are shifting towards independent artists. I hope the future is one without big conglomerate-owned corporate A-holes who care only about the money, and has no idea what 'music' means to artists & their fans.
This led to a twitter rant from the Punjabi rapstar that stirred up a real debate. Here are some sneak peaks from his twitter page.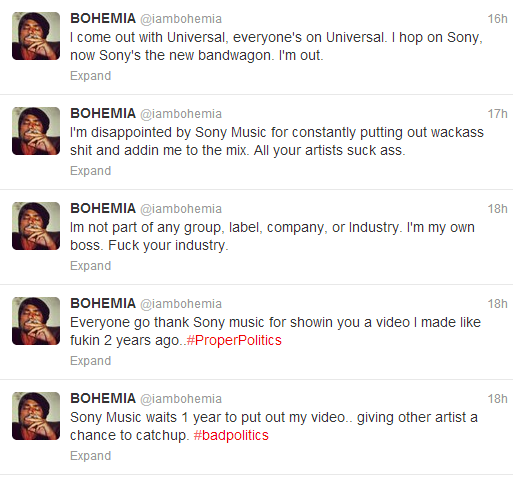 Bohemia was PISSED off! And rightly so, I would feel the same way if my song and video was delayed for two years! When artists work so hard behind their music, the excitement of the release itself is something special. People anticipate their creative product, and by bringing up these un-explained delays, labels just kill the vibe. The future is surely away from large record labels, and more about independent movements. There should not be a middle man between the artist and his/her fans. The sooner we get there, the better for everyone.
Ok, so Sony Music not only delayed the release, but can someone explain this little thing here.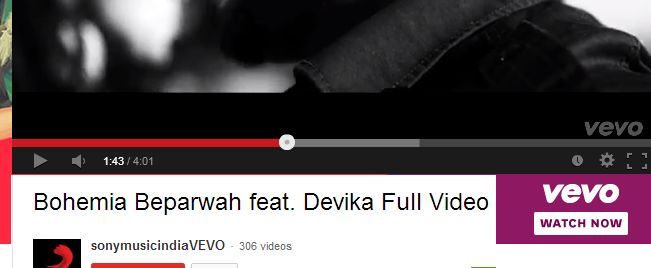 Bohemia Beparwah Feat Devika?? I don't know about you, but I have problems with this sentence! Shouldn't it be "Beparwah – Bohemia Ft Devika". Yes, it's a tiny small thing, but why would such a large music label even make tiny small mistakes? I don't get it anymore.
Either way, apart from all the politics and all the time wasted. Check out the song, it's pretty good.
[youtube id="j8Q7hcCXUts" width="600″ height="350″]