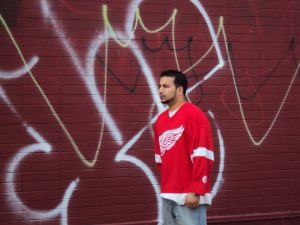 For nearly a decade Shai has been freestyling in cyphers under northwest city street lights to writing raps on any type of paper he could get his hands on as rhymes and thoughts flowed thru like rain drops in the Emerald City.
Influenced by Hip-Hop legends such as Tupac, the Lox, Nas, Woodie, and numerous underground street rappers Shai has taken the best of styles while adding his own flavor.
With some Bollywood romantic sound Shai brings in the pain and drive of worldwide struggles against oppression at all levels for all people. Revolutionary themes of great social/theological thinkers drive a lot of what he has to say with the cold drenched streets of the gangster lifestyle making up all aspects of the game Shai contains.
Hits such as "Baby Come Back" and "Keep it Real" showcase the lighter side of things while the darker aggressive melodies and rhymes of "Get Down" and "Powers dat be"  (soon to be released) truly show his dimensions. Polishing his skills over the years thru local shows and even headlining with westcoast rap legend Celly Cell has prepared SHAI for the taking amongst a generation who grew up literally as Hip-Hop became a dominant sub cultural force.
In this ever increasing multi-diverse world Shai is one of few who can relate/reach across all boundaries. Hoping to change the world with a mic let's see if his passion will be embraced, the sound may remind you of the 90's but the words are yet to be like anything heard of.