TOWFIQ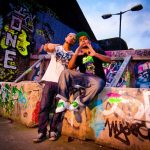 UE –
Born with a passion in Khulna City. At seven, this passion emerged followed by few years lesson in Tablas. In a very disciplined childhood Towfique was always rich in cultural activities. Playing percussions is more than a passion to him..
Six years of studying in J.C.C ( Jhenaidaha Cadet College); polished this child up to a passionate, cultural and foot-solider of pure music. His a…chievements in J.C.C years include- subsequently , championing the I.C.C.L.M.M (Inter Cadet College Literature & Music Meet'05) band music competition; first position being crowned & runner up of the Solo Acting 2004 in a competition among all Cadet Colleges. In 2005 formed Alternative Rock band called "PIERO" with his Cadet College mates.
He proves himself versatile indeed, his hands over debate, speech, writing, and painting and over all sports. Shariar Shabbir (Albums- Sohorer Niom, Brishti Seshe)- the guy; support him ever.
In the year of 2006 he moved in London for higher studies but kept himself with a move with music in Underground. So far worked with Nafi in his solo album called "NAFI" and subsequently appear as a guest-artist in "nMn's solo album".
He has been doing solo performances since he arrived. Performed in several community programmes (i.e- London, Cambridge, Birmingham & Manchester). Then came the golden era of RAJOTTO with Faisal Roddy.
FAISAL RODDY-
Faisal Roddy born in 1983 with a charming childhood spent in Barisal. Studied in Barisal Udayan School always literally been top of the league. Although he briefly learned Classical & Folk, his heart and mind always lies with song writing and composing. Driven by such passion he booked up the then most famous band "SITHERN" [Barisal] and has written few popular songs for them.
Studied in Dhaka from 1997 to 2000 with painful times away from professional music. Luckily had the opportunity to do a few performances with the band "EXCEPT-STRUM".
With a bright beginning in Chittagong University he came closer than ever in his pursuit of musical happiness. "ROCK-NOTE", "RIGID" was the top two bands with whom Faisal Roddy performed. Composed few songs and sang his heart out. Finally released his first solo – "Bolte Chai Tomay" in 2002; music by Ibrar Tipu.
Living in London; lived the same- chasing his musical dreams. Probably to the best of his musical luck bonded with his comrade in music- Towfique a.K.a CK