No one can deny the fact that Kala Kurta Gang is on it's best nowadays. First Sikander released a song, Overtaker, from his upcoming Album 'Kahlon's Laboratory' featuring Fateh on it. and now KKG killed the vibes by releasing Veer Karan's debut Mixtape  Rags to Riches.
Frankly I've been following DesiHipHop activities on Facebook since 2009 when Bohemia released his 'Da Rap Star'. and in these years i have never seen such a flow of one release on Facebook for a long time. Literally every Rapper whether s/he is from Mohali, Delhi or Mumbai was sharing Veer Karan's 'Rags to Riches'. and that forced me to go through the Mixtape.
When i downloaded the Mixtape and started to listening the Intro of the Mixtape, Immmortal Singh's heavy voice and the words he used gave me goose bumps. and then i started listening to all the songs one by one and i couldn't stop myself from bumping all the tracks again.
Not only Veer Karan, whole KKG team has worked hard on this Mixtape. Navi Virk made his comeback with this Mixtape featuring one track in the album called TOO MUCH. HK, Rob C, Immortal Singh and KKG founder Sikander Kahlon all featured songs in this Mixtape.
Here is the Tracklist of the Mixtape:
01) Rags To Riches (Intro)
02) Yaad Aawen
03) Patola
04) Panga (ft. Rob C & Immortal Singh)
05) Meri Mrs. (ft. the 'hk')
06) It's Time (Skit)
07) Catch Me (ft. Kala Kurta Gang)
08) Wafa
09) Her Song (ft. Sikander Kahlon)
10) Gandhi Ji (ft. Sikander Kahlon & Immortal Singh)
11) Memories
12) Mulakaat (ft. Manik Arora)
13) Sahi Keha (Outro)
BONUS:
14) You And Me (ft. Manik Arora)
15) Too Much (ft. Immortal Singh & Navi Virk)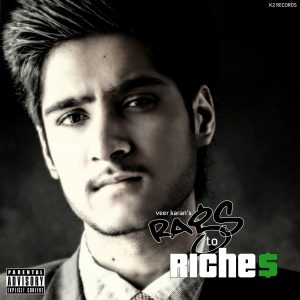 I'm not the only one who is appreciating this Mixtape, there are several other rappers too who are sharing this mixtape on Facebook and one of them is Explyrix from F.B.I.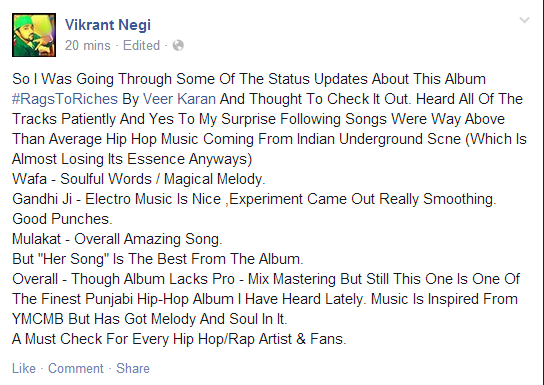 So we can say perhaps Rags to Riches is one of the best Mixtape till date??
Download The Mixtape Here: http://www.mediafire.com/download/4abkp9o9kv7x6wv/Veer+Karan+-+Rags+to+Riches+%282014%29.rar