Raftaar, Three Record Artist, yesterday dropped a song on YouTube to push Indeep Bakshi's recently launched album 'Billionaire'. This song was uploaded on Indeep Bakshi's YouTube channel.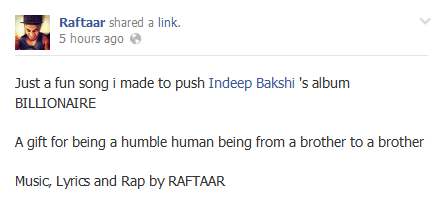 BILLIONAIRE BY RAFTAAR
[youtube id="wDIHzF7gddA" width="600″ height="350″]
Raftaar said in a Facebook status,"Just a fun song i made to push Indeep Bakshi 's album BILLIONAIRE. A gift for being a humble human being from a brother to a brother. Music, Lyrics and Rap by RAFTAAR".
From the day one of Indeep Bakshi's Album Billionaire launch, Raftaar has been giving a shout out to this album. Raftaar and Indeep Bakshi having a collaboration song in this album too, called Madam Ji.
Madam Ji – Indeep Bakshi feat. Raftaar
[youtube id="vPnTOJ2vorY" width="600″ height="350″]