CLICK HERE TO DOWNLOAD! (Right-click Save as)

[wp_media media="audio" title="DHH Mixtape Vol 1″ artist="DOC BLADEZ" volume=0.8 start="on" urls="http://desihiphop.com/wp-content/uploads/2011/09/DHH-com-Mixtape-Vol-1-The-Onslaught.mp3″]
DesiHipHop.com is not only your go to place for the latest in news, now we are giving you amazing music! doc bLAdez, of Five River Fundamentalists, LA, presents DesiHipHop.com's official Mixtape Vol. 1: The Onslaught.
The mixtape features music by some of the best in the industry including Tigerstyle, Tru Skool, Panjabi MC, and Bally Sagoo to name a few.  Checkout the complete tracklist:
1. Intro/doc bLAdez w/Tumbi Thunders – Tom Cat Beat (Badeshi Hameed Ft TumbiBeatBreaker)
2. It's Okay – B Magic (A-Trak revisit)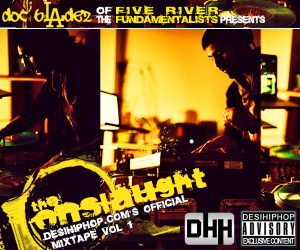 3. Black Is… — Sarah Sayeed MC
4. Rip the Skin – Himalayan Mission Project
5. San Fran Psycho —  Mandeep Sethi
6. T-T-Tigerstyle – Tigerstyle feat. Blitzkrieg
7. Keep It Rollin' – HoodiNi & KinG!
8. My Island – Ras Ceylon
9. Take Me Home – Drega
10. Jatti Ram Kaur – Tru Skool ft. Surinder Shinda
11. Indie For Short – Sakhu, Mandeep Sethi, & Povan Beats
12. Tru MC's – Panjabi MC  (yes, his name is MC for a reason)
13. Jazz Mix – Panjabi MC
14. Guerrilla Wordsmiths – Himalayan Mission Project
15. Another day Another Ruby Dhalla–Lighter's International ft. Mandeep Sethi
16. Flic Flic – Lighters International (Humble the Poet, Sikh Knowledge, Sho, Mestiz+Chuckallah)
17. Qott Ghusian De – Imran Khan
18. Dil Mang Da (doc bLAdez' P.U.T.S. Mix)– Bally Sagoo
19. Time Has Come – Noyz & B Magic (Slum Village Revist)
20. Told U – iQ
21. The Gutter – Humble the Poet ft. Mandeep Sethi & Ras Ceylon
22. Bedoin Joe – Mike Desai ft doc bLAdez
23. Scratch Interlude/I Don't LovHer – doc bLAdez/DviouZMinDz
24. The Recipe – Swami Baracus
25. Chalo – iQ ft Bohemia
26. Kangna (Still Dre Mix) – Doc Zeus ft Imran Khan
27. Orange Suit Theory – Chee Malabar
28. Swagga Like Sardars —  MC G-Singh (feat. Young Fateh, L-FRESH, & SaintSoulja)
29. Son of a Sardar – Tigerstyle ft Kanwar Gill
30. We Were the First – Mandeep Sethi & Ras Ceylon
31. Break This Game – Swami Baracus (Allstar Remix) Ft Sam Khan, Kazz Kumar, Menis, RKZ, AC, AG Dolla & Rowdy Brown
32. Aisee Taisee – Mandeep Sethi (Prod. by Sikh Knowledge)
33. Pillows & Pills – HooDiNI & KinG!
34. Off the Handle – Omar Adil ft Xzibit
35. Technorganic  — Flying Lotus, Sikh Knowledge, & Humble the Poet
CLICK HERE TO DOWNLOAD!  – (Right Click – Save Link As)
Mix by doc bLAdez, Pic by roarkyd.com, Art by DJ Raf