So, guess what? The first lady, Michelle Obama, is about to release a new rap album. Yes, you read that correct. Let it sink in for a minute. Michelle Obama. Rap Music. Mmmm-hmmm, affirmative. And it'snot even an April Fool's joke. It's real, and it's serious. Biggie Smalls and Tupac Shakur must be turning in their graves… or not.
Michele Obama is currently working on releasing a new Hip Hop album titled "Songs for a Healthier America". But, fortunately, she doesn't rap or sing in it. She is putting it together, with a host of celebrity appearances. Her part, you ask? She provides voice overs, and excerpts from speeches to tie in the theme of the album. Phew! What a relief! For a moment I really thought I would be hearing her rap or sing on the radio. And you already know that if she did rap or sing, radio stations would NEVER stop playing the songs, even if they sucked!
Watch Exclusive Behind The Scenes Footage of Michelle Obama's Project!
[youtube id="YdJRz2wUaqg" width="600″ height="350″]
Celebrity Overload!
The album's full of notable celebrity appearances. Which includes, Jordin Sparks, Ashanti, Ariana Grande, Matisyahu, Travis Barker, Ryan Beatty, Doug E Fresh, DMC, Dr Oz, Iman Shumpert, Artie Green, Shayna Steele, Jeremy Jordan, E-Street Band guitarist Nils Lofgren, Our Time Theater Company, Amelia Robinson, Paul Burch, Brady Rymer and the little band that could, Monifah, J Rome, Ashthon Jones, Daisy Grant, Samite, Naledge, Babi Floyd, Hip Hop MD, and DJ Skee.
What kind of Propaganda is this?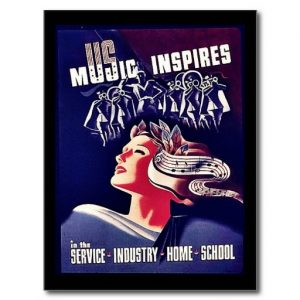 That's a LOT of big names to attempt to change people's perceptions towards health in the United States. Though this is a positive movement, but none-the-less, it reminds us all about how public PR campaigns have been used throughout history by governments to create a change. This reminds me of the second world war times, when the government actively released Uncle Sam posters along with music albums and singles. In a collaborative effort with artists and musicians, they aimed to drastically change the perception of the masses.
I believe the intentions of this is positive, however. Because the United States is FULL of obese people. And, I suppose it couldn't hurt to get some kids hooked on to some positive hip hop music. Let's see where this goes and how people perceive it. I'm sure not everyone will appreciate the effort. What do you think?

*featured image courtesy of XXLMag