LMFAO's Sky Blu to Play Two-City Tour of India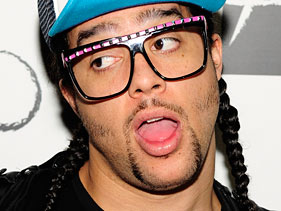 Sky Blu, one half of Grammy nominated popular EDM rapper duo LMFAO, will finally perform solo on March 8 and 9 in New Delhi and Mumbai respectively, next month. The duo, comprising uncle Redfoo and nephew Sky Blu, have produced several party chartbusters in the past such as "Sexy And I Know It," "I'm in Miami Bitch" and the most popular, "Party Rock Anthem" (incidentally for which American rapper Rick Ross sued them last month).
Watch the video for "Party Rock Anthem"
[youtube id="KQ6zr6kCPj8″ width="600″ height="350″]
In 2011, US-based LMFAO released their second album titled Sorry For Party Rocking. While the duo has been on a hiatus since 2012, with both the members pursuing their individual projects for now, this two-city tour is being called "an official LMFAO tour". Last year, Blu self-released his solo debut album Rebel Music and put it up for free download on SoundCloud (get it here). The album shows a distinct sonic side of Blu from the kind of music that LMFAO produces and has interesting collaborations on its roster such as British progressive rock band Riff Raff and music producer Mark Rosas.
Check out the track "HMDT!" from Sky Blu's album Rebel Music featuring Shwayze and Riff Raff
[youtube id="DMy1LXqTn9g" width="600″ height="350″]
In an interview to The Hollywood Reporter last year, Blu indicated that he might release his second album in the first half of this year. However, an official word on it is yet to be out. Considering that it is going to be Blu solo, we are expecting the set to be a good mix of LMFAO hits along with some of the tracks from his solo debut album, Rebel Music.
Organised by production and events company Outcry Entertainment, Sky Blu is scheduled to perform on March 8 in New Delhi and on March 9 in Mumbai. Venue details are yet to be announced, but you can buy the early bird tickets here. For more details, visit their Facebook page.