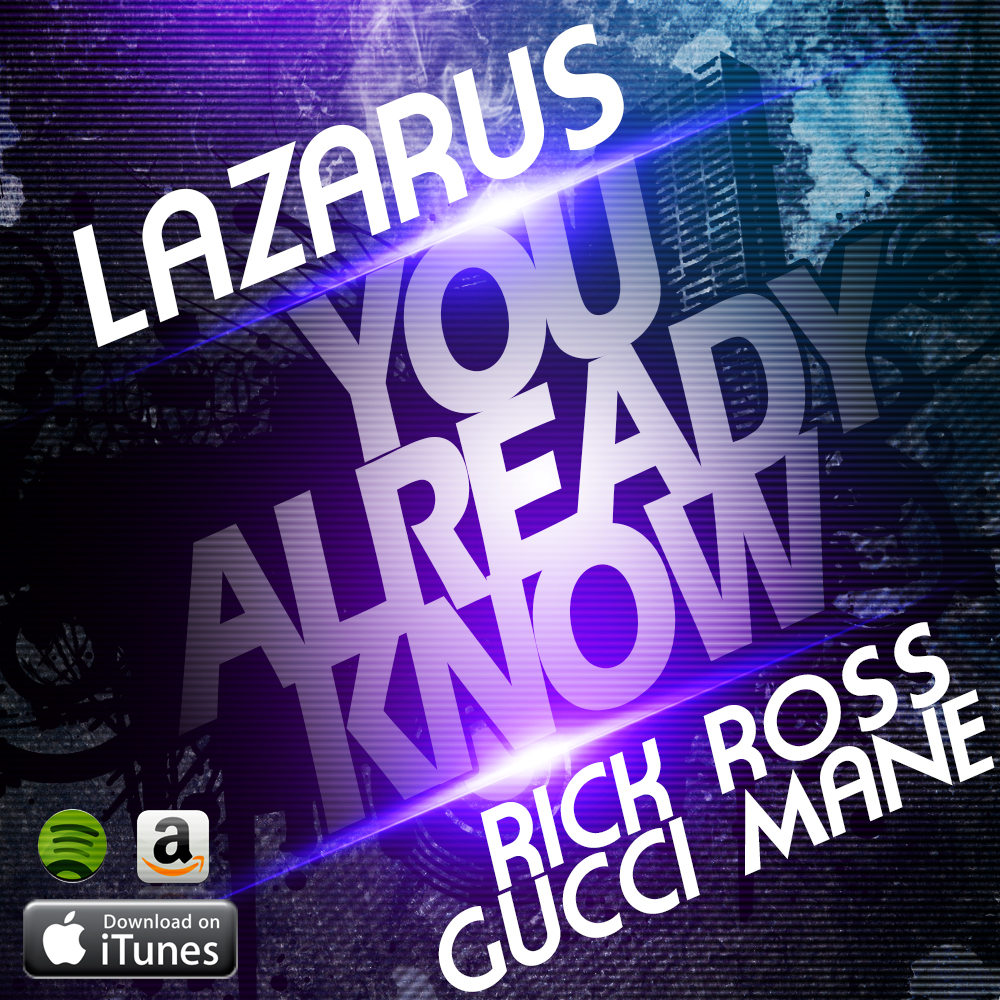 "I believe doing stuff like this puts me outside of the box everyone wants to put me in. I want my fans to know that determination is the only fuel you need for your fire!"- LAZARUS

–
[DISPLAY_ACURAX_ICONS]
This is truly an interesting year for Desi Hip Hop. Artists have been giving their best of the best in 2014, and it's only been the first 3 weeks since the year started! Recently, Bohemia announced his collaboration with Sean Kingston, and Lazarus just trumped that to release his first 2014 single featuring two Hip Hop giants – Rick Ross & Gucci Mane. And when I say 'giants' I don't just mean Ross' unhealthy weight! With a catchy hook reppin' 'Maybach Music Group' (MMG), Rick Ross gave a flavor to the song unmatched by anyone else. Gucci's verse was good, but Lazarus' clearly showed the world how skillful he really is. With a tight flow, and a lyrical  verse, Lazarus takes sh*t to the next level!
Listen to the song below and experience Hip Hop history as it's being made.
You Already Know – Lazarus Featuring Rick Ross & Gucci Mane
[DISPLAY_ACURAX_ICONS]
Doctor & Rapper
Lazarus has had steady progress since he first started out. His story is one that can inspire anyone to do more, do better, and achieve their dreams. The Pakistani, Detroit native always wanted to be a rapper, and had his rap game figured out from an early age. His radio freestyles still get plays on Youtube, and his rap battles popularized him in the Detroit streets. Meanwhile, he also had another dream, the dream to grow up to be a respectable Doctor who helps people from every walk of life. In the cross roads of life, Lazarus had to make a decision about his future & his career. Unlike most people, he said "I'll do both!" and he is damn good at both aspects of his life.
An Inspiration to All
Currently, Dr. Kamran Khan is a practicing physician accomplishing his dreams of caring for patients in Las Vegas. His other job is being a rapper, and he's done very well in that. Almost all of his music videos on Youtube garnered millions of views, and he's recorded songs with some of the greats including Jadakiss, Royce da 5'9″, Proof of D12, KRS-One and many others. His story is so epic that he was interviewed by the BBC, Discovery Channel, MTV, DesiHipHop, Voice Of America, and many other news outlets since his career started. He even got a chance to showcase his talents to Russell Simmons last year!
[DISPLAY_ACURAX_ICONS]
This guy defines the word "inspiration" and gives everyone a reason to believe in their own dreams. He shows that anything and everything is possible, that even a Desi guy can out do mainstream rappers, he shows that even a doctor can be on the same level as popular artists when it comes to rapping. When asked about his thoughts and feelings about his latest single, he said the most inspirational words I needed to hear today, "I believe doing stuff like this puts me outside of the box everyone wants to put me in. I want my fans to know that determination is the only fuel you need for your fire!" His fire is definitely burning, and this is a fire that no one can put out!
–