By: Priya Lisa Gonsalves
Sexy, soulful, and eclectic in her musical taste, Ishani Majumdar is one of the first female Hip-Hop DJs in India. DJ Ishani, who lives in Mumbai city, started DJing in 2005 and was a resident DJ at the well known Mumbai night spot, Zenzi, spinning a mix of Old School jams and commercial New School beats.
Ishani has since played all over India and has had the privilege of opening for international acts such as Justin Timberlake's official deejay, DJ- Mark Da Spot, as well as DJ Power A.K.A The Soul Controller, the official DJ to Reggae sensation Junior Reid. Check out Priya's exclusive interview with DJ Ishani to find out more about her journey.
DHH: Being a woman having grown up in India, What would you say drew your attention towards Hip-Hop, R&B, Funk etc sounds?
DJ Ishani: Hip-Hop and R&B always attracted me from the start. I feel as if it surrounded my everyday life, whether it was on my television, playing on my radio or being spun by DJ's at clubs I partied at. The raw beats and messages behind real Old Skool Hip Hop have proved very influential in terms of my desired path.
DHH: Having interacted with people in India for a few years in the Music/Urban Scene, how would you describe the cultural change relating to these genres of music in India?
DJ Ishani: India is waking up to Hip Hop. As is well known, the USA has had Hip-Hop prominent in many forms for decades. People in India are adapting lifestyles as a result of emerging Hip-Hop, whether it be street dancers to b-boys. It's seen as very cool and a good look to be an integral part of the scene.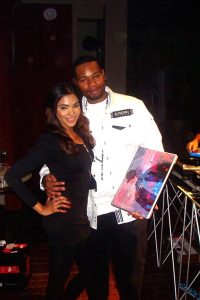 DHH: Being one of the few Female DJs in India who spin Hip-Hop, What have been the obstacles as well as advantages of your gender?
DJ Ishani: It's disadvantageous as there is a stereotype by many in the industry. Females are not prominent and therefore often seen as outsiders in the scene. For this reason, I've had to work twice as hard to be recognized. The advantage however, is that being one of few female Hip-Hop DJs, I act as a positive role model for the younger female generation looking to get involved within the scene.
DHH: What does "Desi Hip-Hop" mean to you?
DJ Ishani: Well, Desi Hip-Hop, I guess, represents a community of like minded Indians across the world who share a common passion and interest fusing the east and west.
DHH: Could you answer the following "Favorites" of yours?
DJ Ishani: Favorite Emcees: Rakim, Q-Tip, Big L, Common, Tupac and Biggie.
Favorite Old School Hip-Hop Tracks: So many…Nice & Smooth – Sometimes I Rhyme Slow, Lords of the Underground – Funky Child, Pete Rock & CL Smooth – T.R.O.Y.
Favorite Female Artists: Mary J. Blige and Aaliyah.
Favorite Current Track: Tyler the creator, almost every track off his new album.
Watch out for Ishani's upcoming gigs at Chennai Hip Hop fest –September 29th – the first of its kind in the city featuring DJs, Beatboxers, B-boys etc and at Mumbai's Premier Music Performance venue- BLUE FROG on the 12th of October.