Imran Khan is back with his first release of 2013, Satisfya!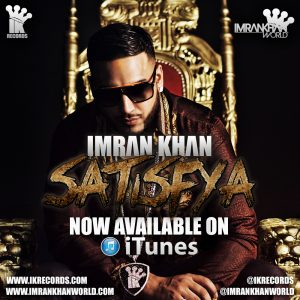 Imran Khan has been missing in action for quite some time, but he's back bigger than ever and on a mission to conquer the globe one continentat a time! The success of the debut album "Unforgettable" has made the last four years a frantic worldwide experience, with back to back tours, concerts and appearances. Much speculation has circulated around his return to the music scene, but brace yourselves audiences, Khan has eradicate all rumours! Fresh out the studio and with Eren E till on production the duo were hard at work innovating an explosive sound. IK management proudly confirms the comeback of the King of the Urban Punjabi sound. Now releasing on his very own label IK Records the new single 'Imran Khan – Satisfya' is just a taste of the future. Check out the stunning music video directed by David Zennie on all social platforms!
Get Satisfya today on itunes and be on the look out for the video dropping tomorrow!