Imran Khan & Bohemia Touchdown in Delhi

Imran Khan & Bohemia touchdown in Delhi!  Imran Khan started his career with a single Ni Nachleh  following that up with Amplifier and Satisfya.  Imran Khan is going live at the Bohemia Tour India '13 starting with New Delhi on the 1st of December, 2013, at LEMP. Bohemia tweeted Imran Khan about this and Imran Khan tweeted back. If I'm not wrong, this might be the first time (or one of the first times) that Imran Khan rocks the stage in India! Since the release of his 'Unforgettable' album, he did a World Tour after it's immense success. DesiHits gave his album a 5 star rating after the release. And he got the best album of the year award at a award function in UK.
Imran Khan said in his interview after his song Satisfya released that he didn't know any artist named Honey Singh. He also said that Bohemia is the 1 and only Rapstar in his tweet. Maybe he did this as a PR stunt or does he really not know who Honey Singh is? It's only my point of view and the sources where i read about this. What you guys think about this ?
Imran Khan and Bohemia have been seen tweeting up a storm – who smells a possible collaboration in the works?!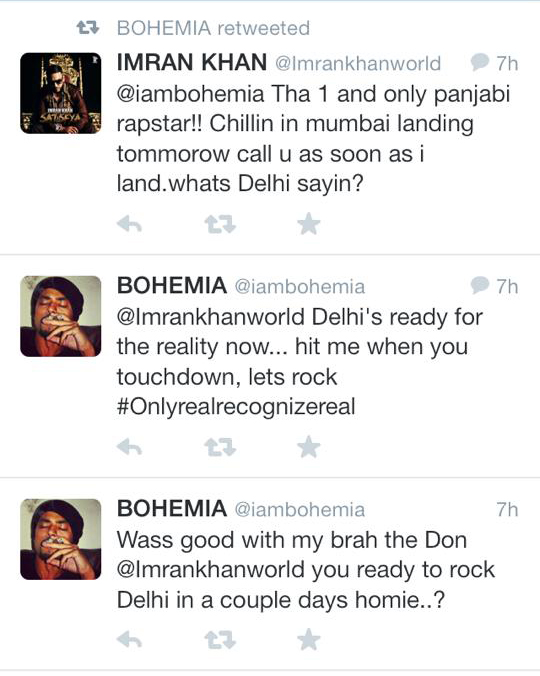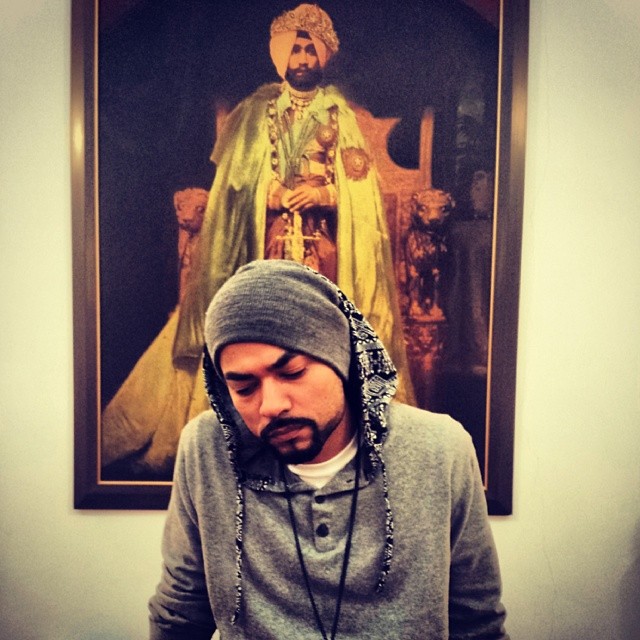 Bohemia already performed numerous shows in India this year, His tours was organised by YS Events. He enjoyed staying at Maharaja Palace in Patiala and he warmly thanked all of the his Patiala fans for being so nice to him and the people who let him stay at that very Beautiful palace. He said "In Patiala I had the honor of staying at the Baradari Palace that was home to Maharajah Rajinder. He was the first Prince to mix Indian culture with Western."  Bohemia's performance at Patiala show was rocking there are hundreds of video's posted on Youtube now the night he performed at Patiala Thapar University. After his show at Patiala he didn't stop or rest he travelled to Ghaziabad and did a show at Club Chillum where he pointed out Punjabi Indian Rapper who are ruining this industry. Everyone knows the name but Bohemia didn't call it out.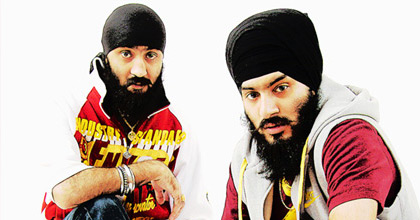 Bohemia has been travelling city to city all over the world and in India too to do lots of live shows and performances. I think he & Tigerstyle are cooking up something may be it's possible that they are going to bring a new song in early 2014 or Mid. Tigerstyle tweeted on 28th of November to Bohemia " hope you enjoy the bits we've sent to you today bro! ". If it's a song that he talked about then it is going to be huge. Tigerstyle is a UK based Group with 2 Brothers who are produce Punjabi music.
@iambohemia hope you enjoy the bits we've sent to you today bro!

— Raj of Tigerstyle (@Raj_Tigerstyle) November 28, 2013
Who's looking forward to a Bohemia & Imran Khan collaboration?! Comment Below