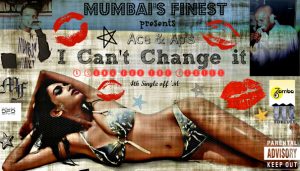 After dropping three singles off his upcoming mixtape titled ' 'M '  today Ace has taken a step closer to completion of the project with the release of 'I Can't Change It' featuring long-time collaborator, AP.
The MC who is a part of the crew Mumbai's Finest is clearly targeting his female fans with the song and we must say, after ranting about sound quality recently (read here) that this is a well produced track. While a lot of that smoothness goes down to AP's natural talent at crooning, the fact that the song was mixed and mastered in professional a studio (Dreams Digital Studios) certainly adds that extra somethin'.
The Rapitfly produced song features one verse from each of the artists, and both do well enough to maintain the strength of the track, which lies mainly in the chorus.
We've already heard him talk about a whole variety of topics, and with the improvement in 39's skills, attention to sound quality, as well as the subject matter and the collaborators he's picking, his new mixtape is sure shaping up well and is currently poised to exceed a few doubters' expectations.
Press play below to listen to 'I Can't Change It' and click here for a free download.
[youtube id="sUqZDildlTY" width="600″ height="350″]