Ida fLO Releases New Single "Plastic" Produced By Haji Springer

Haji Springer has gone from Hyphy to HipHop to Bollywood and now EDM.  This super-producer / rapper from Cali has collaborated with many well known Bay Area rappers, Bohemia (IDGAF) and even alongside Sanjay Datt on Shake is Saiyyan.  Check out his latest EDM banger with Ida fLO!
San Francisco's singer/song-writer, Ida fLO, is set to debut her newest single, "Plastic." Ida fLO offers a subtle grace peppered with tantalizing invitations to rise to the thoughtful yet dancey music on display.
The sonically progressive lyrics combined with her command to listen blends into a powerful music excursion, with a bold sexuality comparable to Ciara and a grace comparable to Sade. Ida fLO represents what a 2013 pop artist should be: sexy, progressive and clever.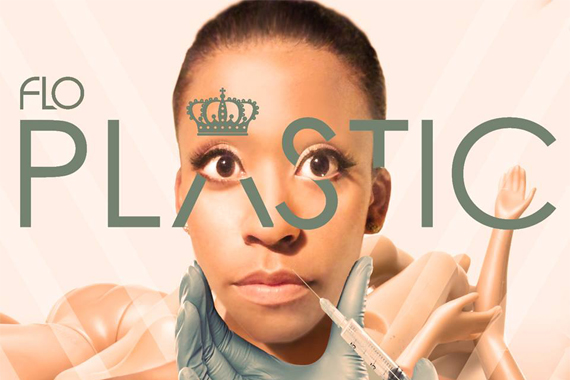 Apart from its thought-provoking lyrics, a series of infectious sounds crescendo from the track with electronic stylings that will get you off your feet. Lyrically, "Plastic" brings light to the subject of plastic surgery and how women and men mold their bodies to meet societal expectations.
"I strongly believe that we should already see ourselves as beautiful beings. I created this track to help others understand that who you are – right now – is beautiful, and to embrace it," Ida fLO explains.
On the music video front, and in collaboration with accomplished director – David Dutton – they've churned out envelope-pushing visual content using painted mannequins, scalpels, saws, and grotesque body modifications that will leave audiences gasping and somewhat turned on. The video's dark twists, comedic scenes and heavy dancing complement Ida fLO's audiotistic intensity.
Heather Cassell of Girls that Roam Magazine commented, "Raised on the sounds of world beats, San Francisco's IdafLO is about to break out of the Golden Gate on a musical journey."
Apart from being an electrified performer renowned for her eclectic costumes and mystical choreography, she manages, produces, writes and choreographs all of her work.
Whether behind the spotlight on BET's 106 & Park or rocking out for Wild 94.9's Tour or San Francisco's local Pride stage, Ida fLO is an artist who demands attention. It's no wonder she's been compared to Britney Spears, Rihanna, and Ke$ha.
"Kevin Morgan of the Universal Music Group started the evening's showcase by stating he was looking for something unique and original. Three hours later, Kevin stated how excited he was with the acts he'd seen thus far. At the end of all performances, Kevin selected four of the twenty performers for encores. One of these four were Ida fLO," comments Stephan Gordon of the San Francisco Examiner.
The single "Plastic" offers a fresh sound, giving you "something you can feel;" something to buzz your ear drums while giving you something to think about. Ida fLO states, "There's no way that people could ignore something so outside the box and untouched. It's ready to be heard by the millions."
www.Soundcloud.com/OfficialidafLO
www.Facebook.com/OfficialidafLO
www.Twitter.com/OfficialidafLO
www.Youtube.com/OfficialidafLO