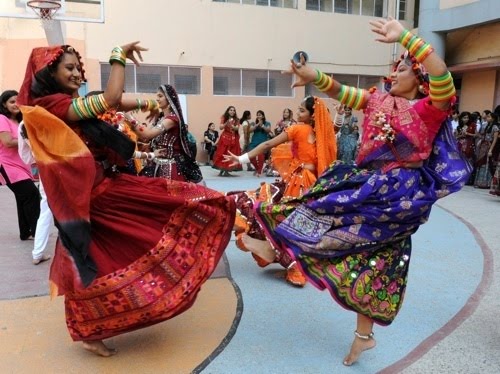 The festival of Navratri is coming up in just a couple of days! It's really an exciting time, because Hindus all over the world will engage in a worship that will bring together sects, tribes, traditionsall together from all over the region. This is also specially exciting for non-Hindu people, such as myself, because of all the excitement involved. The music, the traditions, the dances, the dandiyas, the whole nature of the festival at Garba venues is breath-taking. It's amazing to see such a variety of people all engaged and focused on not only a spiritually uplifting experience, but quite an amazing dance festival at that!
During the festivities every year, what's interesting to me is how the music has evolved over the years. With a musician's mind, I always seem to notice how new and old songs effect people's reactions and feelings, and the basic energy of the place. Yeah, I'm literally that guy who stands in the corner, enjoys the music, and observes the whole party (and of course, eat the delicious amazing food!)
A New Era for Garba
Songs like Dholi Taro Dhol Baaje, and Doli Doli along with a handful of A.R. Rahman hits were a norm. Now, the game's changed! Gujjubhai and JKeys went GOLD (Get Out. Let's Dance) at Garba venues all across the globe. GOLD by Gujubhai and JKeyz is going to take the audience on a ride like never before by fusing two cultures to bring something truly unique into the nine day festival. Check out this brand new track, ushering in a new era of Garba music.
Watch GOLD – Gujubhai & JKeys
[youtube id="gBhJgDQM0wc" width="600″ height="350″]
Distributed by DesiHipHop.com on platforms everywhere, GOLD represents the fusion of folk music with modern dance and Hip Hop music. These two artists come from very different musical disciplines, living in different countries, but connected in a unique way to get you hooked! GOLD, which is a recreation of the classic Gujarati Garbo "Maro Sona No Gadulo", was composed and produced by JKeyz with a pumping bass-boosted house beat layered with synths that will get any person in the mood to start dancing. That coupled with Gujubhai's Gujarati Pit Bull flow makes GOLD a bold entrance into the next era of Garba music. It's currently available on itunes, spotify, amazon music, and music platforms all over.
Let us know what you think, and be sure to share the good tidings with every one!
Comment. Like. Share. Tweet. Do What You Do.