I fail to understand why we all measure everyone's talent by money. It's talent that brings in money. It's you that makes the statistic and breaks records, they weren't there when human beings didn't. Similarly, in the hip hop scene especially in the Desi world, now the one's making dough are talented (APPARENTLY) and the ones working day and night are just losers (that's how we see it and how our mentality works). Breaking that stereotype, we at Desi Hip Hop believe that talent comes from within (like all the intellectual people do) and unites us with billions out there. Funny bit is, we all humans are the same but uniquely different within our own selves from each one of us. Such is the beauty of life and nature. Keeping such an ideology in mind, I keep looking for diamonds in the rough and sometimes I get luckier than I think. Sometimes they just turn up on the surface and I just have to look.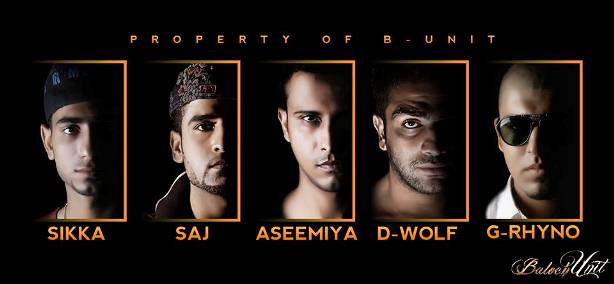 Similarly I came across this new kid in the block called G-Rhyno and his group of rappers, a.k.a. Baloch Unit (B-Unit). These guys are insanely fast and make sense. Man, hip hop completed!! They have things to say about Karachi (my beloved city), they rap in balochi (native language of the Baloch diaspora settled in Karachi) and have done  a fusion track which involves vocals  from Late Nusrat Fateh Ali Khan (from his world famous track Dillagi).  The second rapper in the song is Sikka (means Coin in urdu) is sick as well. The bit is that it starts off with Nusrat Fateh Ali Khan's vocals turning to dubstep and trap type beat which links to urdu vocals, then some more of Nusrat and ends with Balochi lyrics. Ill fusion, that's all I can say. I wouldn't write about it, unless I played it ten times myself. And that's true.
The boys also have a mixtape called 'Thunder Down Under'. As much as the name seems cliche' the stuff in there has four letters written on it; 'D O P E'.