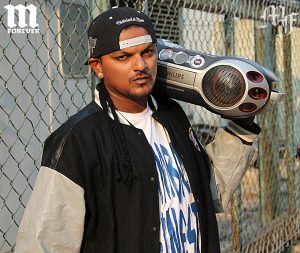 We recently got a chance to catch up with Ace from Mumbai's Finest. The man's been reppin' his city for a long time, and defines real Hip Hop in every possible way.
Hello, Ace your latest track Shappat Sachi is great, I find it still floating in new feeds, tell me about the inspiration for that track?
I am a self motivated person. I do not seek inspiration elsewhere. But, when I first heard the beat by Dj Mosh, I did like it a lot so I instantly started rhyming to it. This was more of a freestyle but I did structure my thoughts and added my natural swing to the flow and the words and I was done in almost like less than 39 mins. Lyrically, I wanted to give emcees in Mumbai a reality check, I wanted to go deep as I hear a lot of people coming up to me and telling me about a certain Rapper X who was talking ish about me behind my back , but Rapper X ,when in person says that he respects me,wants to be like me  and Rapper Y is the cat that hates.The track basically tells you that I created the rap scene in Mumbai and I am still here and shall be the King and the Ace till I'm alive.
 'I have been through it all, done it all seen it all, from the bottom to the top,
I showed no remorse, It's in me because, 'I am Hip Hop '
 You went Desi This time? why all of sudden switching to Hindi?
I have been rapping for a long time now and when I started off, like any other rapper. I wanted to be like my favorite rapper. But the issue was , that I was trying to be someone that I am not. I mean, realistically speaking, English is not my first language plus we live in India. I did not even know how to talk in English when I was in junior college.  I am a local Mumbai boy and where I 'm from , we hardly talk in English, So, the thought of an Indian Rapper Making it big by rapping in English  was not appealing enough for me. I wanted to reach out to people like me and be a voice for them. Also, I have realized that Rapping as an art is very competitive. I do not even compete with the local/national rappers here. My competition is the underground artists from the streets allover the world who are waiting to shine and I'm sure that are many emcees who rap in English and are way doper than an Indian doing it in English , So to get a better edge over my competition, I prefer Hindi rhyming. I do know that there are many rappers doing it in Hindi, but what Mumbais finest does in Hindi, is quite different as we incorporate local slang in our rhymes, making it unique
Watch the video for #shapat #sachchi below
[youtube id="KFD2Kr-Ih84″ width="600″ height="350″]
 You have been in this scene since long, What progress do u see in the scenes so far?
Well, When I first heard Eminem spit, I fell in love with Hip Hop . Then I explored more artists like 2pac, Big Pun, Big L, Nas, Biggie etc and I wanted to do what they do and live the kind of life that they live. So, me and a bunch of mu friends tried to rhyme. We had Ap ( Founding Member of Mf) who was good with the tech stuff. So somehow we managed to record a song and played it amongst our peers. They loved it and the support motivated us to make more songs , eventually we advanced to videos. 'Im ill' by Mumbai's finest was the first Mumbai Rap video. I used to be very egoistic back then, I used to have a dream that I'm gonnna be like my fav rappers. I remember, I called emcees like Invincible P, Rameez, Question , Ht etc and we used to just freestyle , battle,cypher  and learn from each other. This was way back in 2006. The game was online then. If you an Indian Rap OG, you gotta know Insignia and Desi Rappers on orkut from back in the days. The scene was better than as there was less talk and more action. I remember, there was a time when I had around 22 diss tracks by Indian and Pakistani emcees on my name and we all had a single platform. Orkut. I have had text battles, audio battles, and face to face battles too. Hip Hop has got a wider appeal now as rap has entered bollywood plus a lot of people dig the music. But we still have rappers in Mumbai trying to be someone that they see on TV. There are some dope rhymers like Kinga, Divine etc who are repping Mumbai and are better than most of the commercial artists you see on TV .The scene has definitely evolved but right now we have more quantity and less quality.
 'Reality is wrong, dreams are for real,
Believe in yourself and you know, you will !!
 Hip Hop! What does that mean to you now?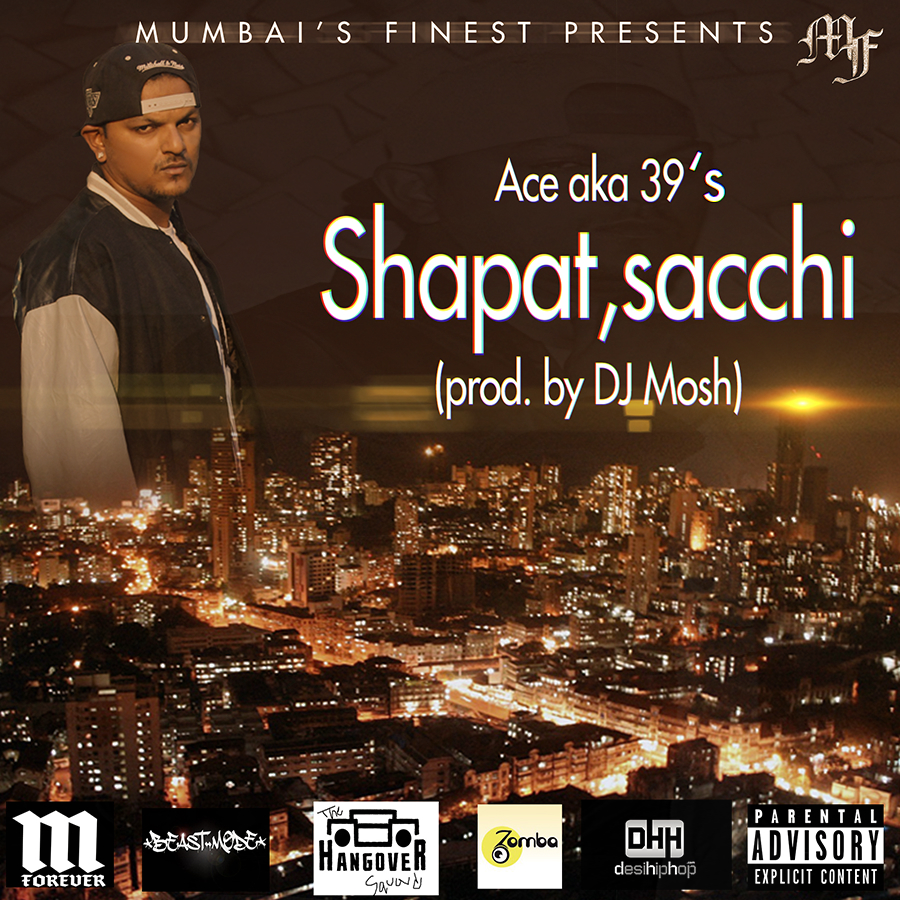 Hip Hop is a religion and all the rappers are gods in their respective forms. It is a culture that you can only understand , if you live it. Hip Hop to me is something that I can never let go of. It changed the way I am, boosted my confidence and help me reach places that I could have never imagined. Hip Hop is my life and rap is my wife. Even my significant other gets irritated at times coz I get so lost in rap that I forget that I have other priorities too. Hip hop is something that I love, I breathe and I live everyday. Even if somehow, I lose my voice and cannot rap anymore, I'd still be Hip Hop .
'I have been through it all, done it all seen it all, from the bottom to the top,
I showed no remorse, It's in me because, 'I am Hip Hop '
 You are soon going to judge "The culture" Tell us more about it.
The culture as per as me, is the biggest and the best Hip Hop event in India. This is a true showcase of hip hop and all it's forms and is a mind force gathering of all the hip hop heads. I guess, this is the first time that 'The Culture' is including rap battles in their jam. I'd like to give a big, big  S/O to Underdog Kombat Crew (UDK) for having me judging this mass showcase and also for all their hardwork and dedication for spreading this hip hop culture that we live.
You can get more info about the culture here – http://totheculture.com/.
Book yout tickets to see Mf live in action plus the best hip hop acts in the country guaranteed.
Mumbai's Finest on Soundcloud!
San Cha
Insane [Prod. Stimey Beats]
I see you trying to educate a lot of young emcees, how is it going so far?
According to me, Knowledge is the best tool a human can possess. Your rap skills, wisdom and style are derived from the knowledge that you have gained throughout your life. I have been doing this way before most of the rappers here were even listening to rap,forget rapping and making songs. So I definitely have knowledge and wisdom and there aint no denying that. I always have believed you only progress when you share what you have. I learn from everyone and vice – versa. So I want to ensure that the young emcees who have that fire should not make the same mistakes that I have made. The biggest suggestion that I give to everyone is to be themselves and rap in their local language rather than english. Also, I am extremely blunt and straight up on your face when it comes to reviewing a song so a lot of young emcees thing I am hating on em. I'm just being me most of the times. A lot of people think that I am hating, but for me, If your wack, then you are ,and it depends on you how you work and make something out of yourself, I have already done that so I do not take ish from no one. A lot of young emcees are receptive though. Mumbai Rap will redefine the future of Indian Hip Hop.
 According to me, Knowledge is the best tool a human can possess. Your rap skills, wisdom and style are derived from the knowledge that you have gained throughout your life.
How do u expect the scenes to be in upcoming years? Is MF dropping anything new ?
Mumbai's finest is not just a crew, but it is a family. I am proud of all the members of my crew. One thing that I am most proud of is the support of wonderful people like yall. We have never paid for a view or a like. The 12000 + likes on our page is a result of our hardwork and dedication. Buying views has become a trend now and we choose not to follow and this is why all the stats on out youtube page are publicly visible. Most of the Underground artists who buy views hide that. Currently, We are done with a self titled tape that we are going to promote massively. Also, Sphere FX and D Hood, two of the best beat boxers in the country roll with us. We are working on their tape as well which will be India's First Beat Box Mixtape. Additionally, Kinga is done with Bars from the soul and has sold over 500 copies already. I am working on my mixtape 'M, that I ensure will be a classic. I'n'Stine , our official producer has got a instrumental mixtape too. The next year is looking good for us. We just did a tv show for B4U music, they did an entire documentary type of episode with a music video for us. You'll see Mf on tv soon, Also, Mf is proud to be hosting India's First Rap workshop at Mood Indigo 2013, Asia's biggest college festival. We shall also be holding a Beat boxing workshop there. The scene is definitely looking good as major labels are showing interest in Underground Artists .  We plan to get signed to a major label soon. Also, there's a lot happening on the other end too, Big S./O to THHM for keeping it alive there. Hip Hop definitely gets people closer.
 One message you would like to give to people about Hip Hop Culture?
Hip Hop is a dream, you gotta live it everyday, believe in it so much that the dream should come to life one day. It may be alien to a lot of people now, but trust me, once your in, you can never get out. We are a small community and we should learn from each other and help ourselves grow. Instead of trying to be like someone that you see on TV, try and be yourself and put your city and the country on the Map. Also, dont hate, learn to appreciate and congratulate. Everyone works hard. Success only comes to those who work the hardest.
'Reality is wrong, dreams are for real,
Believe in yourself and you know, you will !!
[youtube id="KFD2Kr-Ih84″ width="600″ height="350″]
Also, you can download the audio for free here – http://soundcloud.com/mumbaisfinest/shapat
For More from Ace and Mf, please check ;
http://www.youtube.com/mumbaisfinest
http://www.soundcloud.com/mumbaisfinest
http://www.reverbnation.com/mumbaisfinest
http://www.youtube.com/mumbaisfinestrapper
Twitter & Instagram @ – mumbaisfinest
BBM – 741C53E8
E mail – mumbaisfinest@gmail.com