Prez Ft. Haji Springer & Panda – Drivin Illegal
Haji Springer is "Drivin Illegal" with Prez and Panda.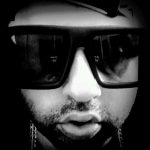 You gotta give it up to Haji for always putting fresh product on the table. Stacked with fresh Bay Area swag, "Drivin Illegal" is gonna make you put one in the air and hit the gas!
2012 was a big year for Haji producing chart toppers with Alli Davis and Bohemia but keep your ears to the street, cuz the word is Haji has a lot more to come in 2013!
San Cha
Insane [Prod. Stimey Beats]
"PREZ" FT. HAJI SPRINGER & PANDA "DRIVIN ILLEGAL" (Prod by Haji)