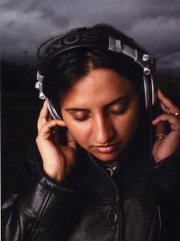 Rekha Malhotra, aka DJ Rekha is a producer, curator, educator and activist based in New York City. Called the "ambassador of Bhangra" by the New York Times and named one of the most influential South Asians by Newsweek, Rekha is among the first DJs to merge classic Bhangra and Bollywood sounds into the language of contemporary electronic dance music. Since establishing herself on the New York club scene with her inaugural event, Basement Bhangra at SOBs nightclub in 1997, Rekha has produced some of the longest running and most successful parties in New York including Bollywood Disco, Mutiny, and Beat Bazaar.
In 2007, Koch Records marked the 10 year anniversary of Basement Bhangra with the compilation DJ Rekha presents Basement Bhangra, featuring original music from Wyclef Jean, Panjabi MC, and Bikram Singh. Rekha's success bringing together performers and musical styles from around the world has led to collaborations beyond the DJ Booth.
Rekha has also given lectures and led workshops on Hip Hop, politics and South Asian art for various universities and institutions including the Smithsonian, Brooklyn Museum and Columbia University. Her work has been featured on CNN, NPR, and PBS.
In early 2009, Rekha embarked on a three-week tour of India as a Cultural Ambassador to the U.S. Consulate. She currently performs regularly at venues around the world and teaches courses at the Clive Davis Department of Recorded Music at New York University.
On November 11, 2011, Rekha launched her record label Beat Bazaar Music and her first single is titled "Pyar Baile."