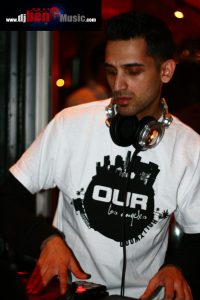 Ben G's musical roots start with dancing from being a B-boy to part of a bhangra group at the early age of 10 in Los Angeles. His love for Hip Hop and music quickly turned his attention to the art form of deejaying at the age of 14 with the crew GSP. Going by the moniker B-dogg he got to spin at the first ever Desi party in Hollywood, SASA in 2000 and spin at some of the hottest clubs in Hollywood and the greater LA region. After enjoying a lot of success with GSP, in 2003 he focused his attention to studying Philosophy at San Francisco State. He took a few years off to focus on what he figured was the "real world" and helped conceive, build and manage a Restaurant/Lounge out in Bakersfield.
Two years in he realized the "real world" would be what he defined it to be and returned to LA to pursue his creative interests music and writing. He changed his moniker to Ben G and started working on his skills as a deejay and writer. He quickly gained popularity and started to hold down residencies in Hollywood, Downtown LA and Orange County.
Recently, Ben G has been a resident at the Congo Room in Downtown LA (Bollywood Bhangra) parties getting to play along side the likes of Karsh Kale, an all time favorite artist of his. He is also the resident deejay for Be the Cause, a non-profit based out of Orange County. Ben G has also been spinning at the Indian Film Festival of Los Angeles, Rhythm Village hosted by Rukus Avenue for the past 3 years. He ateamed up with Malinder Tooray of Dhol Nation to start Project Fresh, a new take on Dhol/DJ sets in 2010 which they displayed at both IFFLA and at the Conga Room.
Ben G's sound is best described by his latest projects the Indo-Fresh mixtape (a truly fresh take on Bollywood/Bhangra/Hip Hop/House/Reggae) and Indefinable mixtape (a musical journey thru almost any genre you can think of) showcasing his wide array of musical knowledge. He seamlessly is able to go from different genres keeping the dance floor packed and the crowd wanting more. As of late he has started to release his own mashups and edits with his eyes on original production next. He has recently signed with Rukus Avenue to become their first resident DJ artist. The future is looking bright for this rising star from the mighty west.