Dhi Punjab Di – Tigerstyle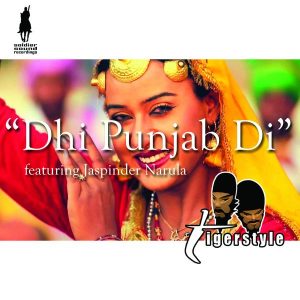 Single Pack features remixes by Pinju, Nuphlo, mps Pilot, Dj.Lo.Fi.R and Hanuman Tribe.
Artist: Tigerstyle feat. Jaspinder Narula
Label: Soldier Sound Recordings
CatNo: SSR004DS5
Writers: J. Mehram, A. Burmy & K. Burmy
Release Date: 25.07.2013
Tigerstyle are one of the most inspiring music outfits out there. As a DJ & Producer I always find that their tunes have just the right amount of Electronica & groove that can move the crowd, while their sounds & melodies move their soul. Their new tune is amazing and will surely be spinned all over Tel-Aviv & Israel by me & any other DJ who knows whats good! – Ido Weedo Saar, (Tel Aviv) Israel
Dhi Punjab Di is made for women who want to break out of the Giddha circle. Only Tigerstyle could add enough Bass to match the power of Jaspinder Narula's vocals. Modern, but still firmly rooted in the fields of the Punjab. – Sari-Clad Speakers, UK
[youtube id="bpCcekRTB6A" width="600″ height="350″]
Previous DJ/Radio Support from:
Annie Mac, Diplo, Maxim, MistaJam, Sinden, Nihal, Bobby Friction, Pathaan, DJ Kayper, Mary Anne Hobbs, Panjabi Hit Squad, Tommie Sunshine, Switch, Tayo, Russ Jones, Kid Hops, Sonny Ji, DJ Rekha, DJ Yoda, Mat The Alien, South Rakkas Crew, Sarah Young, Yasser and many more.
Formula for a true anthem in the making, and any Punjabi Girl's favourite, Daughter of Punjab is the follow up single taken from Tigerstyle genre defining Digi-Bhang album. Think gaudy, sparkling outfit draped bodies, whirling through the beautiful fields of the Punjab, intoxicated on plenty of thumping beats, grooving bass, ecstatic snare builds and vibrant synth patterns.
San Cha
Insane [Prod. Stimey Beats]