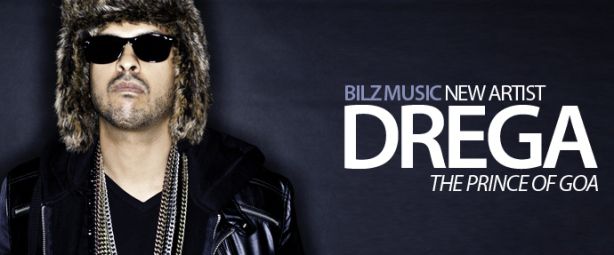 Hot off the release of: "Feeling Amazing" which has amassed over 120k views worldwide, Drega released his second single exclusively on DesiHipHop.com: "Smoking & Drinking". Check out the exclusive interview and his latest single "Smoking & Drinking", video dropping 11/28!
Who is "Drega" and what makes him 'tick'
I'm someone that puts art first. I don't give a shit about my ego or pride, my main concern is how crazy can we make the song? How crazy can we make the video? How can we give the fans an experience? I always say the fans deserve better.
Location Represented?
I represent the world, the universe, the future, the possibilities.
What Music Means to you?
I'm only going to be alive for a short time. I want to make the most amount of people happy, music is the best way I know how to.
Challenges Overcame in your musical journey?
The biggest challenge was not believing I could produce even though I had been making beats since I was 13 I felt like I still sucked until I made Henry VIII. When I saw people's reactions to that song, I became mad encouraged, and just learned as much I could about production and mixing. Now I feel like I'm the best producer/rapper doing it.
Unknown Fact/Information about yourself?
I have a 2 week old son.
Self-Description Track (One Track That Describes the you)?
I would say Overcome and The Promise tell my origin story pretty well.
Current Project?
My new album Let's Go Nice is out now. It's an album I entirely produced myself. I had total control. It's my masterpiece. It took one year to perfect, but truly I have been working on it my whole life. It's like my Sistine Chapel.
Musical Aspirations?
Everyday I break a new glass ceiling for Desi rappers. I won't stop until I'm at the top and we doing it like they doing it. This is do or die for me. There is no plan B. I'll die before I fall off.
Favorite Element of a Track?
I've always been a sucker for a great hook. I guess it's because my mom played so much Beatles for me growing up and since they have the best hooks, it's hard for me to like a song if the hook isn't amazing.
Best Tour Location?
Toronto. No place beats that hometown love.
Artist Influences?
The way the internet is now, if I give away my influences a new rapper will jack my whole style and make my next album for me. I will say my influences are always evolving and I listen to everything. My friends say I'm the wikipedia of music, cause I know about all the genres, all the songs, all the happenings.
Wish List Artist Feature?
I would love to do a collab with Colin Munroe and K-OS, both on a song and along with production. I feel like those guys are so talented. It blows my mind whenever I hear their music. They're also both fellow Canadians.
Hottest Video Vixen?
Hands down. Yaris Sanchez.
Illest Emcees (List 5)?
I'm not going to do my top 5 of all time cause everyone has the same list. I will do my top 5 for right now.

1. Kanye
2. Rick Ross
3. 2 Chainz
4. Meek Mill
5. Future
If you would like to get more info ont the artist make sure to check out below social media:
Twitter: @dregaC
Facebook: http://www.facebook.com/princeofgoa
Official website: http://www.princeofgoa.com
Download his album "Let's Go Nice"
Check out his latest release: "Smoking & Drinking" below: