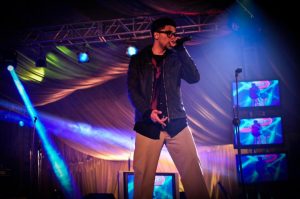 DHH had a exclusive sit down with Florida rapper Osama Com Laude (OCL) to give our readers a chance to find out what he is all about. OCL also has a track called: "Speaking in Tongues" remixed by Haris Qureshi, which is featured on Encore: "The Official Desihiphop.com Mixtape Vol.2 Check out his track and our interview below:
Download Speaking In Tongues (Haris Qureshi remix) below for FREE:
San Cha
Insane [Prod. Stimey Beats]
DHH: Who is Osama Com Laude and what makes him 'tick'?
Osama Com Laude is practically what parents love and musically what society loves. Basically I'm a tough pill to swallow. What makes me tick? Is that a bomb reference cause my name's Osama?!
DHH: Location Represented?
Orlando, FL
DHH: What Music Means to you?
Music to me is my way of expressing each and every emotion I feel in that moment in time. I vent with my words whatever it is I wanna say. It was also my way of conquering a very shy childhood. I was always a creative person in and out but was too shy to do anything about it but music helped me suppress my shyness to some extent and unleash the beast within.
DHH: Challenges Overcame in your musical journey?
My shyness & overall a constant stereotype that there can never be a legit Pakistani-American artist.
DHH: Unknown Fact/Information about yourself?
I'm really shy, a gym freak, left handed & scared of dogs (childhood fear)
DHH: Self-Description Track (One Track That Describes the you)?
Eminem – "8 Mile Road"
DHH: Current Project?
The 2nd single off my upcoming EP and next music video for the track "Sunshine" followed by the
entire EP. My official site, and then the starting creative process for my debut album.
DHH: Musical Aspirations?
To be a legit and steady artist over the years who shows longevity and freshness in my music & hopefully build an empire with the 2 people, my best friends/group mates, I set out on this musical journey with in the first place.
DHH: Favorite Element of a Track?
The process of mixing and trying different things with the drops/change ups on a beat & layers.
DHH: Best Tour Location?
Europe & Australia
DHH: Artist Influences?
Eminem & Nelly above all but also Lloyd Banks, Kid Cudi, Ludacris, Fabolous, 2Pac, Lil Wyte, Sum 41, Pharrell, Lupe Fiasco, Wu-Tang Clan, Snoop Dogg, 50 Cent, Dr. Dre, Papa Roach, LL Cool J, Elvis Presley, Kid Rock, Backstreet Boys, Brian McKnight, Seal, R. Kelly, Nas, Lil Jon And The Eastside Boyz, Pastor Troy, UGK.
DHH: Wish List Artist Feature?
Eminem, Nelly, Ludacris, Yelawolf, Lil Wyte, Lloyd Banks, 50 Cent, Murphy Lee, LL Cool J, Neon Hitch, Ali Zafar, Brian & AJ from the Backstreet Boys, R. Kelly, Juelz Santana, MGK, DMX, 2 Chainz, Kid Cudi, Kid Rock, Dr. Dre, Lil Jon.
DHH: Hottest Video Vixen?
Sagia Castaneda
DHH: Illest Emcees (List 5)?
Eminem
2Pac
LL Cool J
Nas
Rakim
DHH: Finish the Lyric (w/ Personal Freestyle):
This is from an upcoming track from my EP called "Bars Of Steel" featuring Bali Shah, but the line goes something like this if read right:

"King me, cause I get my Mahraj on like Rondo" – OCL
Check out Encore: "The Official Desihiphop.com mixtape vol.2 which is available as a FREE download.