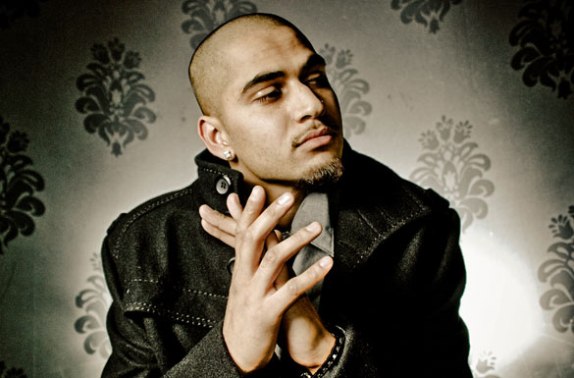 King Roti track Need em all (Girls, girls, girls) was recently featured on Encore: The Official Desihiphop.com mixtape vol 2 and DHH had a chance to sit down with the Canadian rapper to give our readers an inside look into what makes King Roti tick. Check out his track and interview below:
San Cha
Insane [Prod. Stimey Beats]
DHH: Who is "King Roti" and what makes him 'tick'?
King roti is the name and music has been his game for the last 6 years.appearing in radio stations and tv channels throughout North America and the uk . Singles over the past few years include don't cry his first desi single was Ek Sapna which had great reviews throughout the desi music scene including many more. Check out his YouTube channel kingroti tv for all his singles and videos
DHH: Location Represented?
Toronto Canada
DHH: What Music Means to you?
Music is self expression a way to escape reality and a search for my deepest inner thoughts
DHH: Challenges Overcame in your musical journey?
I have had to overcome the lack of support and outlets presented to every independent artist looking for an avenue to be heard
DHH: Unknown Fact/Information about yourself?
I was actually born in Kenya Nairobi which does have a big Indian population
DHH: Self-Description Track (One Track That Describes the you)?
Find your dreams ft my homie sinister
DHH: Current Project?
Half way home my debut album
DHH: Musical Aspirations?
To stay truthfull to my message
DHH: Favorite Element of a Track?
Having an idea and see it come to life over a beat
DHH: Best Tour Location?
Vancouver
DHH: Artist Influences?
Beatles tupac biggie actually most mid 90's hip hop
DHH: Wish List Artist Feature?
Eminem
DHH:Hottest Video Vixen?
White girl gotta be Kate Upton
Indian girl gotta be bipasha
Black girl gotta be Kim kardashin
Wait she ain't black lol
DHH: Illest Emcees (List 5)?
PAC biggie jayz nas eminem
DHH: Finish the Lyric (w/ Personal Freestyle):
Homie I be reckless only desi with a deal that will still snash ya neck less top five desi alive I be on the checklist !
Download the Encore mixtape for FREE NOW just click on the link below:
Encore: The Official Desihiphop.com Mixtape Vol.2