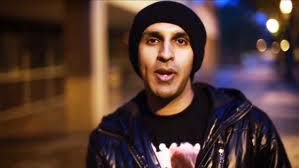 DHH columnist Dal Kaur had a chance to sit down with UK hip hop artist Swami Baracus to give our readers some info on what he is all about in her latest edition of "Dal Dishes The Dirt". Swami Baracus track: "Judgement Comes" feat Kydd and remixed by Haris Quereshi was recently featured on Encore: "The Official Desihiphop.com mixtape vol.2" . The track is available as a FREE download. Check out the track and Dal's interview below:
San Cha
Insane [Prod. Stimey Beats]
It was a busy 2012 for Swami Baracus, during which he performed at not only T In The Park but also Freeze Festival. Towards the end of the year he released his single 'Hyper' taken from his forthcoming mixtape 'The Recipe'. "'Hyper' is a collaboration with renowned producer Kami K! We've known each other for years and have worked together countless times, but this is our first real single together. It's a Hip-Hop/D&B mashup track that showcases mad flows, grimey beats and basslines. Definitely one to literally get 'Hyper' with!"
Performing at two major music festivals was a big highlight for Swami Baracus but which one did he have more fun at?
Despite all the copious amounts of mud at T In The Park, I'd say that it was definitely more fun than Freeze! It was a mission getting up to Scotland anyways, but the overall experience was greater. The Scottish crowd gave me a great reaction and it was still less cold than Freeze!
The mixtape is titled 'The Recipe' and Swami tells me what he thinks is the recipe for success in the music industry:
It depends on how you define success. Some people look at fame and fortune as successful; in which case following the bandwagon is your call! However, for me, it's more successful making something original and true to yourself as an artist that's appreciated by the masses. Creating something that people can relate to, whether socially, culturally or emotionally will help set the foundation towards that.
So, when will the mixtape be ready?
The mixtape is DONE and will be released in the first quarter of 2013, coinciding with the revamp of the website. It's basically a reflection of me, keeping it true to Hip-Hop and defining my personality and character. There are some great collaborations on there, and the best thing is…. it's FREE!
Swami is definitely excited about the release of 'The Recipe' and he has been listening to mixtapes from other artists as well.
I've been listening to a lot of mixtapes recently released. Action Bronson's last mixtape is still getting rinsed, together with Fabolous and Joe Budden's. I need to check out The Game's last album, and I'm curious to see what Chip's is like based on the reaction it's getting.
Working as a graphic designer as well as making music, it's hard to find any spare time but when he does, what does he do with it?
Working and music takes up so much of my time, that when I have any spare time, it's pure relaxation! I'm a big sports and films fan, so it'd involve watching either of those. Though right now, sleep takes priority over everything!" When he is making music, it's hard to choose whether he gets a bigger buzz from being in the studio or performing. "They're almost two different enjoyments. Though if I had a preference, it'd be in the studio. The creative process behind creating quality music is always challenging, and it's something I like to thrive on.
As an Asian Hip-Hop artist, I had to get Swami's thoughts on the obvious segregation in the Asian music industry between the Bhangra scene and the more alternative music:
You almost can't let that define you as an artist. Bhangra's never been a factor in my music-making process, so any segregation is almost superfluous to that. Music is universal and restricting yourself to one sound or scene keeps you limited from progression. I appreciate all the support I receive; regardless of if it's Asian or otherwise. Concentrate on making the music, and let the media discuss on which industry/scene/movement it belongs to!
A New Year means change for a lot of people so has Swami made any New Year's Resolutions?
They usually involve cutting down on swearing, which to be fair I've mellowed on the last few years! I think this year will involve getting fit and healthy… After this Christmas break, it has to be a must!
It was a busy 2012 but 2013 looks even busier as Swami tells me what he will be up to:
Right now the focus is on releasing the mixtape, revamping the website, shooting 2-3 new videos and deciding on singles. Also, I will be looking to get out to more festivals next year. I've had a good taste for it in 2012, so I need to build on that
For his fans, he wants to leave a message,:
Thank you to all the fans, followers and friends who've supported me along this continuous journey! I'm only at the foothills of Everest, and will need all your on-going support to help me reach the summit. In the meantime, please purchase 'Hyper' legally! It's available on swamibaracus.bandcamp.com and costs about as much as a packet of crisps… Go healthy for one day!