Culture Shock and Stranger Family tour got cancelled, wassup?! Dal Dishes The Dirt!
We all know the drama surrounding the Culture Shock and Stranger Family tour being cancelled but it was the Canadian band that spoke out first. They announced that they would be staying in the UK to do a tour and that they had not been fully paid by Jamal Hirani, manager of the Stranger Family. It was only after they put out a video blog, that Jamal made an official statement in which he said the following, "It is very disappointing that they put a blog out stating that they have received no payment which is a complete lie. The reality is that there was no buzz on Culture Shock in the UK and they did nothing to help create any."
I decided I wanted to get to the bottom of this once and for all, so I caught up with Baba Kahn, Lomaticc and Sunny Brown before their Manchester gig to find out the truth. As I asked the guys how the shows they had already done had gone, I could tell they were running on adrenaline as they told me, "Glasgow was good, Bradford was really good, Newcastle was decent, what was the other one? Birmingham, that was really good. Tonight, it's Manchester and then……Birmingham again. Sorry, I've lost all sense of time," Baba apologises.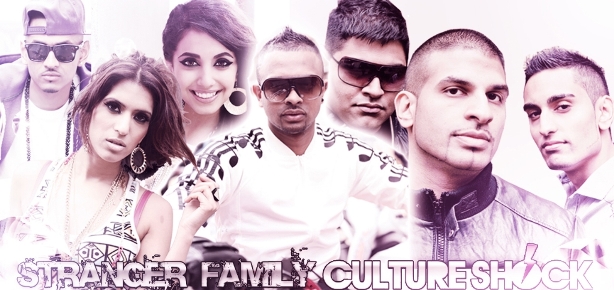 I asked them about the statement that Jamal had put out. One party was lying but who was it? Culture Shock went into great detail to lay down exactly what had gone on.
"It's very simple; the contract was set up saying we would get paid on certain dates. The Stranger Family had no success in trying to break the American/Canadian market and we have a very strong foundation out there. Jamal came to us and asked us to do a track with the Stranger Family so we met Mumzy Stranger and the guys a couple times, hit it off, felt a vibe and decided, yeah, let's do this. We are very particular about our collaborations because our group has a very unique sound. We've done very Official remixes with artists like Britney Spears and Lady Gaga and we get paid a hefty sum for them."
Culture Shock then went back to Toronto, got the XOXO single finished and by the time they got back to the UK to start the tour, Jamal had provided an initial deposit which covered flights and a next payment was due Nov 1- the start of the tour. He reassured the band that he had made a wire transfer and they went ahead with the tour. "We asked our manager (Rinku Ghei) what was happening with the money and he sat down with Jamal and said the payment is 4 or 5 days overdue, Jamal then showed us a wire transfer confirmation and said to our faces the wire transfer is going through so, after 3 days we wondered where is it? In London – one day prior to Birmingham show, Jamal dropped us off at the hotel and that was when we got a very funny vibe, because, he could barely afford to pay for the hotel.
"Our manager then started to make calls. We were realizing here we were touring across the UK and most cities we were going to hadn't even received the XOXO single nor did they know about the tour! We then discovered Jamal hadn't paid promoters, bus drivers, radio advertisements, tv stations and sponsors and began servicing the track as best as we could to media outlets. The Promotion for the tour was grossly mismanaged. We are artists and all we have is our reputation and we won't let anyone mess with that. We are not here to take anyone's money, we give our music out for free and the only way we make money is by performing. We have never missed a show, NEVER."
It was then that Culture Shock decided to enough is enough. We are upset, our fans are upset, there is no promotion happening and everything is completely unorganized. Culture Shock's manager, Rinku sat down with Jamal to sort out the finances and offer a settlement to the contract, Baba tells me that Jamal refused to pay, "His excuse was, 'I paid you guys a deposit and you guys have no draw in the UK.' It doesn't say in our contract that we have to promote ourselves. Who would be ignorant enough to enter into a ludicrous contract like that? That just tells me how ignorant and stupid the guy we are dealing with is. All I can do is laugh. It makes me angry because it's such a silly, stupid thing to say. If he thought we weren't successful enough, why would he come to us for the deal? We didn't pursue him, he pursued us. If we don't have any draw, why are you coming to us? Why did you agree to pay this much money?
"Let's look at the facts, number 1, we put the XOXO single up on YouTube and got 33,000 views. They got 5,000. Who's got the pull in the UK? Please enlighten me. Number 2, we have 50,000 Facebook fans and that's just Culture Shock. Lomaticc has another 40,000, Sunny has another 20,000 and I have another 10,000. The Stranger Family have 4,000. So, who's got more pull? Deal me facts, don't deal me bullshit and we've never been accused of purchasing fans. If we were wrong, why would 99.9% of the UK back us? Artists including Surinder Rattan, RDB, Metz n Trix, the list goes on called us and said, whatever you need, whatever you need, whatever you need.

"We could have got back on a plane and left. We're not about that. We said there's no point, just because one guy wants to mess with our reputation, we all said we are not going. The UK is a major market. We are successful in Canada and the States and we want to get bigger. Any statement that Jamal has made, I'm just not going to entertain stupidity. Talking to him right now is like talking to a child. It's a silly statement that has no relevance. He could have given us some money but he literally just said no.

"Even The Stranger Family backed us, but, I always say, your management is a representation of you as an artist. Simple, we don't want an idiot for a manager but your image and how you want to be shown is your prerogative. We didn't agree to sell out the tour for him. You have to understand something, Jamal didn't tell us something was wrong, we figured it out. Lomaticc had an idea that something was off when Jamal couldn't even muster up 60 pounds for a hotel room. From day one, we could have said we aren't going on stage until that payment's made, but we didn't."
As Rinku ads, "For 3 days I asked Jamal if he had rescheduled the Glasgow show- for 3 days I could not get an answer! At that point we were done. It was apparent they just did not care and I give a lot of respect to Char Avell and Ramee who spoke out and publicly denounced Jamal's actions. Where was Mumzy? Jamal hid behind a very poorly constructed press release based on subjective opinion. I mean in 24hrs I was able to put together 5 shows for our fans and he couldn't reschedule even one and the best part was not one of those shows did anyone ask me for a contract. As I mentioned before credibility is built by actions not contracts."
It was apparent that the guys were upset with the whole situation but the point was they were still here in the UK and they were doing the shows for the fans. They explained that money is not their driving force and the fact that they have always put their music out for free, totally backs up that statement. At the end of the day, it is the principle that a contract was signed by both parties and it wasn't respected by Jamalwhen an artist is booked it clearly states in the contract full money to be paid regardless of shows happening or not Culture Shock being human asked Jamal for a settlement which he ignored and walked away from. At that point they decided to allow their legal to handle the situation and get back to focusing on what was most important – their fans. Culture Shock were enjoying their shows and meeting their fans and pointed out that everything happens for a reason. Their fan base is steadily increasing and it might just be a strange coincidence but the venue they performed at in Glasgow was called Destiny Church.
I ask Culture Shock what they are going to bring us next and when I mention collaborations, they laugh. "Maybe we should chill with the collaborations for a while!! We do have a Bollywood one coming up and an interesting hip-hop one. Because of contracts and what's happened, we have learnt our lesson and we're not going to say much yet!!"
They mentioned hip-hop and I couldn't help but ask whether Bhangra would always be at the forefront of the UK Asian music scene. "It is difficult for new sounds to break out here and we don't know why. Bhangra is what works but it might be time for a change and we are going to help change it because we are going to keep pushing the music. People need to push the market. We remember when we were told that Culture Shock wouldn't work but guess what? It worked and it worked very well."
Culture Shock went on to give an excellent performance and it was great to see Surinder Rattan and fellow Canadian Roach Killa in the house, showing their support. The guys certainly have a unique way of fusing RnB, Desi and Dance music with both English and Punjabi vocals to create something really fresh and original. I was glad I went to meet them and let them set the record straight once and for all. This Canadian band has won over a lot of new fans since they came to the UK and I am certainly one of them. As for Jamal Hirani, Culture Shock are letting their lawyers deal with the financials but I really hope we never hear from him again. The music industry will be a lot better off without him.
By Dal Kaur