Brodha V has uncovered his latest song "Indian Flava" which is a powerhouse of a track! Brodha V is a member of Machas with Attitude and even more so, a member of the Desi Hip-Hop fraternity. Bringing unity to music, Brodha V's "Indian Flava" features 12 artists from the scene.
You will hear: Avinash Bhatt on the hook, Ram K, Mo Boucher (Thugs Unit), Smokey (Machas With Attitude), ishQ Bector, Mandeep Sethi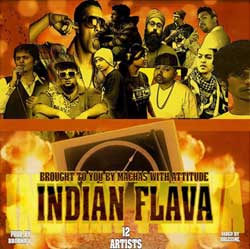 (Zulu Nation), Haji Springer (3 A.M.), Big Nick (Machas With Attitude), Femcee, Vin, Ko the Timeless, and Enkore (Munkey Rhymes).
Taking this unity to the next level, "Indian Flava" supports the Desi Hip-Hop movement going on around the globe. The song proves that Desis can rap and the underground scene is growing and is making its way to headlines.
Machas With Attitude are now planning a similar song showcasing more India based acts and Shizzio is cooking up the Burban movement uniting U.K. acts.
If you have not paid much attention to Desi Hip-Hop get your first taste with "Indian Flava."