"What the F*CK is MTV Roots Smoking!?"
Bohemia is totally pissed off by this act by MTV Roots on Twitter & Youtube. MTV Roots shared a video of Ek tera pyar – Bohemia Ft. Devika. However, not only were they almost 3 years late to the party, but they titled it on youtube as "MTV Roots – Ek Tera Pyar by Punjab Band Bohemia Ft. Devika." What the hell is MTV Roots people thinking before uploading this video on their channel. The real artist didn't even get the proper credits, but we'd be interested to see Bohemia The Band. 
When Bohemia saw this on their twitter he instantly tweeted them " @MTVRoots Punjabi band? What the f*ck are you smoking? " Below look at some more screenshots of twitter.
Bohemia was really angry on their act because of 2 reasons, one was the wrong video title and the other one was they uploaded his video on their youtube channel without even asking him or the label. Either MTV forgot their roots, or they just wanted some extra hits and views on their Youtube Channel.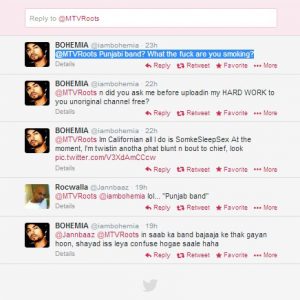 Bohemia did a claim on this video & it was removed instantly from MTV's youtube channel.
Was this act done by MTV Roots was planned for a social growth or this was by mistake ? What do you guys think ?