Bohemia, the Pioneer of Punjabi Rap has just reinvented the game with his latest single, "Rooh". Lets go behind the scenes with the producer, Prince Saheb.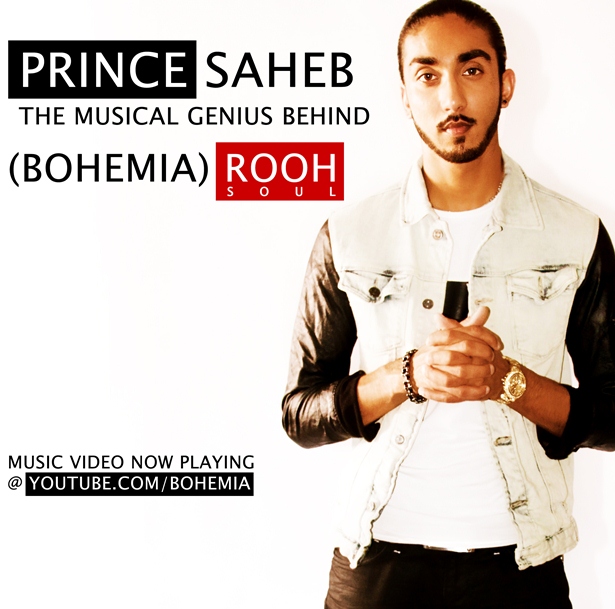 Saheb Singh a.k.a Prince Saheb is a musicproducer signed to Ray J's Knockout Entertainment Label. Born in New Delhi, India, Prince was first discovered by Snoop Dogg's Brother LA Buck and went on to create hits like the theme song for Brandy and Ray J: A Family Business. Prince Saheb has worked with artists like Jay Sean, Bobby Brackins, Kurupt, Rick Ross, Drake, Mann, Lil Kim, Lambo Lux and many more – so it's about time the Desi connection with Bohemia manifested itself as "Rooh". We got a chance to catch up with Prince Saheb on the making of "Rooh", check it out.
What inspired you to produce the beat for "Rooh"?
The music for Rooh came from the lyrics that Bohemia wrote. He created the melody for "Rooh" along with the lyrics. The tune and the words are simple, yet really powerful, so I had to match the beat with all that. I decided to bringing guitars, some nice Synth pads, of course the right drums etc. At the end, it all kind of came together like magic.
What was it like working with Bohemia on that track "Rooh"?
I have worked with Bohemia on other tracks, but tt was a different experience working on "Rooh". Ra [Bohemia] was over at my studio, it was like 5AM already but he insisted on laying the track. He asked me for a pen and a pad and I started going through sounds. Once we got into it, the music kept us going and we didn't lave the studio until the song was done. I could just feel "Rooh" come to life.
Do you think people will like this different side of Bohemia?
I'm 100% positive people will love it. It is something he has never done before, and we can say now that Bohemia is the first rapper to release a song that he fully composed and sang. The lyrics will grab you because it is a true story, I'm sure a lot of us can relate to. And just like with Punjabi rap Bohemia invented a new stye of music, I think with this track he has reinvented the game one more time.
"Rooh" exposes a different side of Bohemia to his fans. A slow Punjabi Rap with autotune – entirely composed and written by Bohemia – who would have thought?! Check out "Rooh" and buy it on itunes:
We hope to catch up with Bohemia soon to get inside his mind about Rooh, if you have any questions, leave them below!