BOHEMIA LIVE IN BAHRAIN 1/31/13
Bohemia live in bahrain with jasmine sandlas along with dj andy.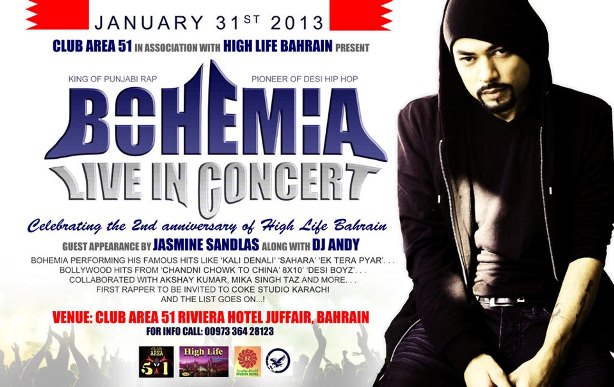 Bohemia "The Punjabi Rapper" just finished up touring India to usher in the New Years for his fans and now he's off to Bahrain to perform at Club Area 51 in association with High Life Bahrain with his recording artist Jasmine Sandlas along with DJ Andy!  Bohemia's fan base continues to expand across the world as this artist continues to graciously prove time and time again that Quality always wins over Quantity.   He has collaborated with Akshay Kumar, Mika Singh, Taz, Baby Bash and is the only Desi rap artist to be invited to feature on the coveted Coke Studio sessions.  He is one of the few "real" artists who takes time to select not only every word of his lyrics, but also every instrument and musical composition on his tracks.  Bohemia is on his way to reaching One Million fans on Facebook – if we could be so bold as to make a prediction – he'll get there by the end of March 2013.  If you're in or around Bahrain, don't miss this!
Celebrating the 2nd anniversary of High Life Bahrain
Bohemia live in bahrain enjot it on 1/31/2013
VENUE: CLUB AREA 51 RIVIERA HOTEL JUFFAIR, BAHRAIN
FOR INFO: 0097336428123