Blitzkrieg dropped his second album Get Blitz in the spring. Now he is showcasing one of the EP's collaborations with the release of the video "Love You The Same." The song features Roach Killa, Navin Kundra, and Kat Eyez!
Biltzkrieg worked with Navin for the first time on this track. The two had great synergy reflecting in the final track. "Love You This Way" marks Navin's departure into singing English vocals and we are quite impressed!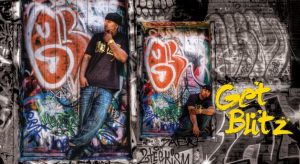 Roach Killa shows a whole new side to his artistry as he is the single's producer and not a featured voice. Time and time again we catch Roach rapping on big tunes, now we'll see how many songs he will be responsible for producing.
Kat Eyez is no newcomer on the scene, but it is nice to see him working with different faces and local Canadian acts.
When we asked Blitz how he would categorize himself as an artist, hetold DesiHipHop, " I would simply call myself an artist..not restricted to any genres." Then what does Desi Hip-Hop mean to Blitz? "Hip-Hop is a way of life not just music.," he explains.
With each artist having a different affiliation to "Love You The Same" and Blitz's passion for Hip-Hop, are you on board for this musical journey?