Bite My Music Global Awards 2011 are coming! This platform acts as the world's biggest independent music awards and it was launched yesterday by Saintz & Sinnerz, an international brand and marketing company based in Malaysia.
The unique music awards that honours and recognizes unsigned musicians has already taken the world by storm and is already being hailed as a champion for the independent music industry.
"Its been a 3 year journey to get here, but we're ecstatic that all the pieces of the puzzle has produced such a phenomenal music platform. I guess we're unique and credible because of the amount of time,money and resources we have invested from our own pockets into unconditionally helping musicians over the years.We have always stayed neutral in the music scene and that has also helped grow our reputation in the market" said Siva Chandran, COO of Saintz & Sinnerz and the founder of all the awards.
The Bite My Music Global awards is considered the "World Cup" of the independent music scene and launched 3 sub-awards as a pre-global awards initiative last month. IndieGo Music Awards: The 1st music awards for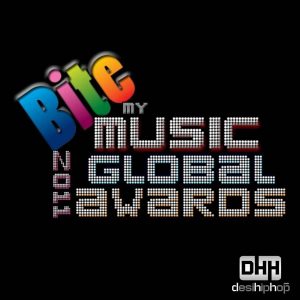 musicians from South Asia – India,Pakistan, Sri Lanka, Bangladesh, Maldives and Nepal
VIMA 2011: for musicians from Singapore,Malaysia and Brunei
GAMA 2011: The 1st Global African Music Awards for unsigned African musicians from across the world.
The Bite My Music Global awards for the rest of the world is now open for registration and submissions at www.bitemymusic.com.
The closing deadline of all the sub-awards are October 12th for IndieGo Music Awards, October 15th for VIMA 2011, and October 18th for GAMA 2011, before the Bite My Music team takes 2 weeks to shortlist the final nominees for the voting and judging period in the month of November.
DesiHipHop.com is supporting the movement, will you be submitting your music?