Bhaanu- Kalli Feat. Swasti – It's My Turn
Bhannu a new singer in Industry may be introduced by Raftaar for this song. Raftaar announced on his official Facebook page that this song Kalli was written by him around 3.5 years back for someone special don't know who is that special one, but he was not able to produce it he didn't stated any reasons for that. Check out what he shared about the song below in the screenshot. Bhannu featuring Swasti did very well in the song a must listen song for everyone.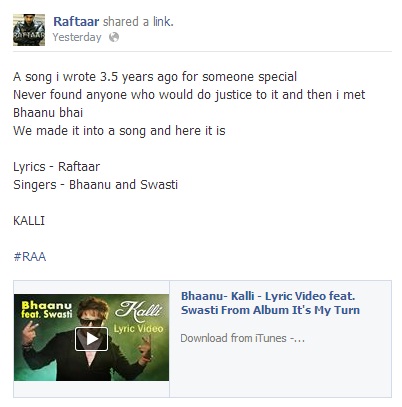 [youtube id="z5cT0-PZKUc" width="600″ height="350″]
Download from iTunes –
https://itunes.apple.com/in/album/kal…
Song – Kalli
Artists — Bhaanu feat. Swasti
Music – Sukhamrit
Lyrics – Raftaar
Label- Sony Music Entertainment India Pvt. Ltd.