In India, How often you get a chance to vote for your favorite rapper?? How often you get a chance to pass on comments publicly for your favorite rapper?? I guess barely. But still there are some people who are willing to provide you the same platform i was talking about.
You must have heard about the popular website 'The Top Tens.com, where anyone can make a list of anything, if he/she wants people to vote to choose the top ten. This time someone came up with a list of Best Indian Rappers on thetoptens,com. Who ever made the list on the website must be a bona fide fan of Hip Hop.
There are 133 rappers in this list, hails to different location of India, from north India to south India. but what matters the most is who are the top ten rappers in the list?  who are the choice of the people?? who is holding the King crown?? Let's not waste the time and have a look at the top ten rappers in India, voted by Indian Hip Hop Fans.
So the rapper who is holding the 10th position is Nasty Mahatre.

9th. A- Bazz

8th. Akshay Kumar, This name in the list questions the credibility of the list. everyone knows Akshay Kumar is not a rapper or musician at all. he is a Bollywood actor and spited some rhymes written by Bohemia for his Movie CCTC.

7th. T.E.J

6th. Pardhaan

5th. Badshah

4th. Hard Kaur

3rd. Brodha V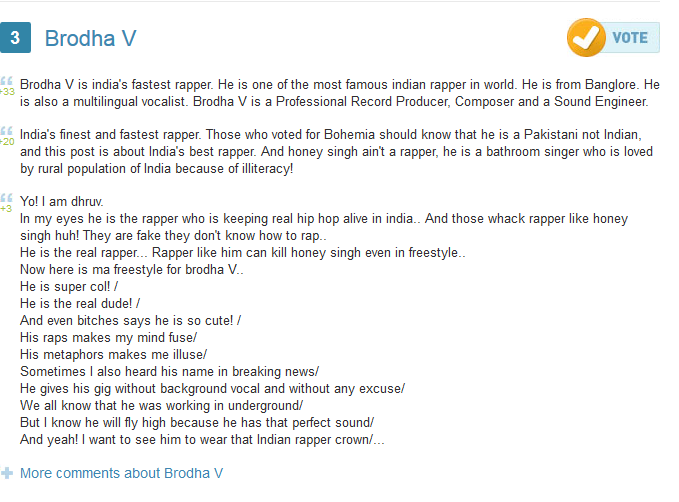 2nd. Bohemia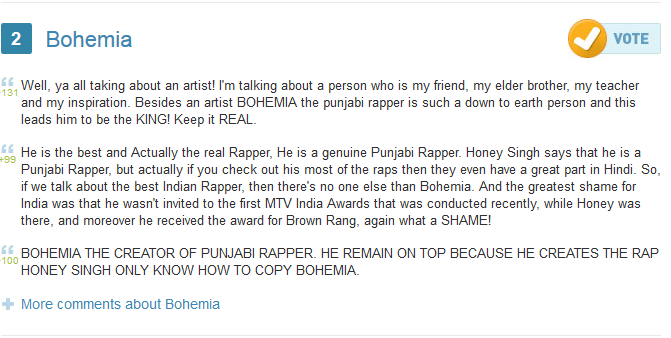 and the person or you can say rapper who is leading the queue is non other than, Bollywood's most loved Yo Yo Honey Singh.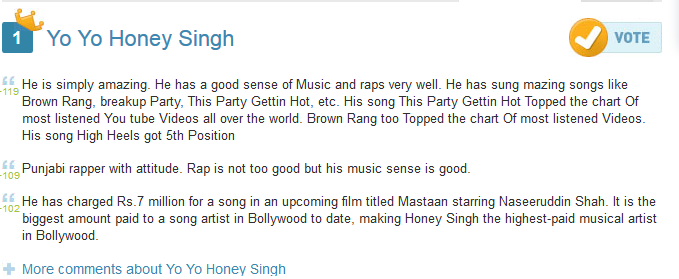 Well, To be honest there are number of good or i should say best rappers in india who are not in this list. and another thing you need to keep in mind is this list is not made by DesiHipHop.com. If you think you're favorite rapper left off the list or his rank is way behind than go and vote for him. Yes! don't waste much time.