9XO AND SONY MUSIC BRING HIP HOP PIONEER AND B-BOYING LEGEND CRAZY LEGS TO INDIA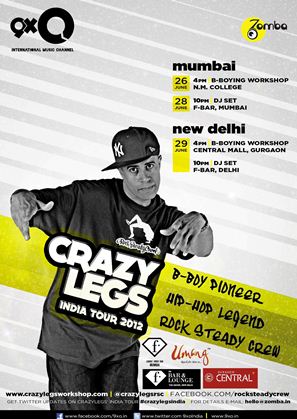 9XO the International Music Channel by 9X Media Group and Sony Music's Zomba India's first integrated urban culture brand, bring hip hop pioneer and B-Boying legend 'Crazy Legs' of the Rock Steady Crew to India. During his visit from 25th June – 30thJune, Crazy Legs  will promote B-Boying & conduct workshops in Mumbai & Delhi. Crazy Legs who is credited for inventing several dance-moves is all set to thrill the Indian dancers with his debut India tour. The "Godfather" of B-Boying has opened up avenues for aspiring artistes globally and is in India to do the same.
'Crazy Legs' is the President of world's most respected and long lasting Hip Hop dance organization that continues to perform, compete, and educate young generations. In 2003, the New York City Mayor David Bloomberg declared July 26 to be "Rock Steady Crew Day" in New York City while in 2004, Rock Steady Crew was honored at the first annual Hip Hop Honors by an international music channel.
Excited about his maiden visit to India with Sony Music's Zomba, Crazy Legs says, "I'm looking forward to building a sincere and solid relationship with the hip-hop scene of India, as well as with its people and culture."
Speaking on this initiative, Luke Kenny Content Head 9XO said, "We are delighted to partner with Sony Music's Zomba and bring the ultimate B Boying expert, 'Crazy Legs' to India. B Boying is one of the most popular youth sub culture and at 9XO we are committed to introducing the popular youth sub cultures and the best of English and International Music. We are confident that the B Boying workshops by 'Crazy Legs' will definitely open up many avenues for aspiring artistes in India."
Bob Omulo, Chief Editor Zomba.in added, "Crazy Legs is a legend in his field and it's our honor to get him here to our country where B-Boying is witnessing a huge growth with more and more people wanting to learn and excel. We plan to get him to meet as many people as possible and conduct workshops and encourage this dance amongst as many people as possible."
Crazy Legs has won accolades for his choreography for Wyclef Jean (nominated for an Award for Best Choreography) and Multi-Platinum artist Moby. His memorable performances in the films like Flashdance, Beat Street, Wild Style and Style Wars have up the ante of break-dancing. Crazy Legs has appeared on ads for Coke, Sprite, Verizon Wireless, Sean Jean, Avirex, Nike and Red Bull.
To meet Crazy Legs and interact with him, fans and dance enthusiasts can attend workshops in Mumbai and Delhi. Crazy Legs will also be doing a  DJ set on Thursday 28th June Mumbai, F Bar and Friday 29th June Delhi, F Bar (entry as applicable)
Fans and dance enthusiasts can register for the workshops online starting Friday, 22nd June, on www.zomba.in.
_____________________________________________________________________________