Urban Desi R&B singer, Anjali Ranadive, has been making quite the waves recently.  I mean, when was the last time you saw a girl in a sari singing the national anthem at an NBA game?!  So who is this mysterious girl?…oh boy do we have  story to share: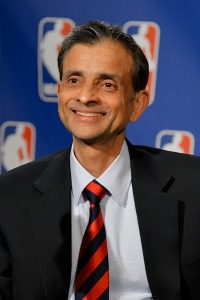 Indian-born software mogul Vivek Ranadive killed many birds with the same basketball-shaped stone earlier this year. When Ranadive's majority-owned group bought the Sacramento Kings, he succeeded in saving the Kings from Seattle to keep them in Sac-Town, he brought hope and optimism to a franchise struggling on court and with its fanbase, and, most relevant to desi fans, he became the first majority Indian-origin owner of an NBA franchise. Ever since then, the tech billionaire has brought back some positive vibes to the Kings, planning for a new arena, hiring new Head Coach Mike Malone, completely reinvigorating management and staff, drafting Ben McLemore, trading away former ROY Tyreke Evans, motivating their centerpiece DeMarcus Cousins (and giving him a contract extension), and turning 'Sac-Town' to 'Shaq-Town' by welcoming once Kings-tormentor Shaquille O'Neal into the franchise's ownership group. Excitement over the new ownership has helped the Kings surge to the number one spot in the NBA in new ticket sales.
But Ranadive isn't done yet. The Mumbai-born has spoken various times of turning the Sacramento Kings into a 'global brand', and specifically about popularizing the team back in his motherland. He wants to set up outreach programmes to connect with Indian fans and even added that he wants DeMarcus Cousins to be a household name in India (for all the right reasons, hopefully).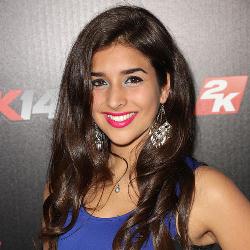 But enough on Vivek, lets get back to Anjali's music…Her song, 'Like Me' featuring Yung Spitta, is a smooth track with some hot vocals. The way she rides the beats is impressive, and gives a sexy vibe to the whole piece. Personally, I can't wait for the video to be released!
The song got much attention from a variety of people, including Shaq. Check out his tweet!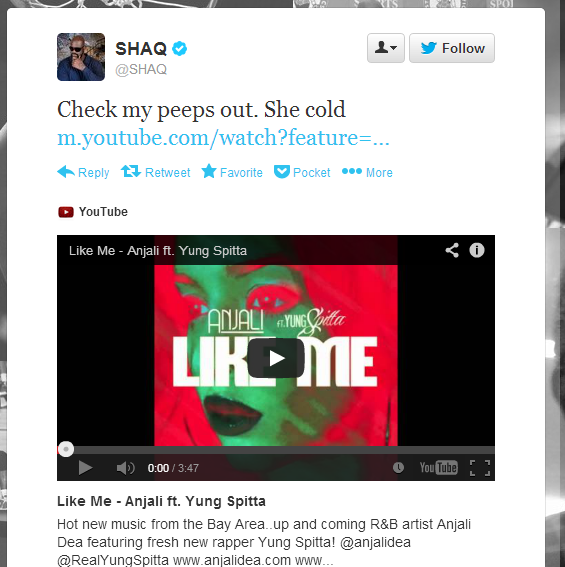 And, here's the video everyone's talking about!
Watch Anjali Ft Yung Spitta Like Me
[youtube id="wbnjr6Ws3eg" width="600″ height="350″]
Let us know what you think about this song, and the future of Desi R&B music.
Anjali was also recently spotted on Comcast SportsNet Live, check out this Live interview.
[youtube id="CcsO3PLGKeI" width="600″ height="350″]
And, it does not end here, no. Check out her latest mixtape below, you will be impressed by this young artist's skills
Anjali Dea "Sound Waves"
To learn more about Anjali Dea, log on to her website right here. Show your support here, and click here for a funny-cute-cat-meets-puppy video. Yes, I deceived you into clicking that button again!