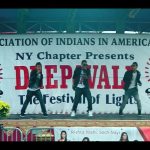 The British group 3Mix headed to New York City and are now sharing some video footage from their trip.
The 3Mix boys, Karim, Myan, and Usman, first headed to Time Square before they headed back to their hotel to chill.
Then Sunday afternoon the grou headed to South Street Seaport to perform at the annual Deepvali Festival. Fans posed for pictures and then the trio hit the stage. Shades on and moves coordinated, the trip comes to an end.
Check out the video footage and live 3Mix's NYC journey with them.
http://youtu.be/tnHDrM7_kMY