Tupac's biopic movie – All Eyez on Me – is coming to movie theaters on June 16th on Tupac's birthday! Tupac Shakur was undoubtedly the most controversial and well-known rapper of our time. After years of hiatus (because of a certain shooting incident), the man's back on the big screen, and fans' excitement levels are at a fever pitch of enthusiasm!
Growing up, Tupac Shakur was one of the most played cassette tapes in my boombox. My room was awash with tracks like Changes, All Eyez On Me, Keep ya head up, and Starin' at the world thru my rear view. All of them are instant classics… or should I say class-sicks!
My first memory of Tupac Shakur was when I was a little kid – in my pre-teens – and I was hanging out with a couple of guys from the neighbourhood. Soon, our lame time wasting hangs out led to us finding a bag of cassette tapes that one of our neighbour's kids stashed away in a corner of the alley. I really feel like that was one of the strangest scavenging hunts that I have ever done. BUT, I found gold, and I didn't even know!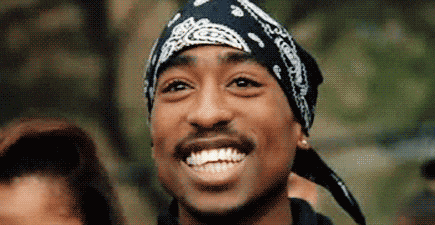 Soon, our somewhat stolen tapes found their way into my bedroom. One tape was Metallica, one was Snoop Dogg's Gin & Juice, and the last tape was Tupac's '95 classic album – Me Against the World.
As I found myself headbangin' to Metallica, I also got hooked onto Pac's Temptations. From there on, my life was changed forever. With 2 classic tapes in my hand, I was the coolest kid in school!
So, when I heard that pac's biopic titled 'All Eyez on Me' was about to drop on June 16th – on Tupac's birthday – flashbacks of my somewhat stolen tapes flashed in my head. The hours I spent memorizing Tupac's lyrics zoomed thru my mind, and the countless hours I spent emulating his character blew my cranium like a movie scene.
This is gonna be EPIC! And I can't wait to check it out
News of the Biopic literally broke Twitter!
The man that spoke to millions, the story you haven't heard. In theaters everywhere June 16 #alleyezonme https://t.co/dWQ631faU3

— All Eyez On Me (@alleyezmovie) April 6, 2017
The movie about Tupac is a must watch when it comes out🎬

— B.Barry-Dotson🏖🏝 (@12_31_97) April 8, 2017
i'm so ready to see the tupac movie 🤤

— Aun'Jel🍯🍯 (@ssliimjellooo) April 8, 2017
I HAVE TO SEE #AllEyezOnMe

— Rosemary (@sweet_rosess) April 6, 2017
@spirit_of_2Pac facts only this movie is gonna be epic I just hope they don't fuck this up this is Tupac it have to be perfection

— Khaawar Shakur ♉️ (@IamDashingKeith) March 28, 2017
BTW, The guy who played Biggie Smalls in the B.I.G. Biopic is Back!
Jamal Woolard, who played Biggie in Notorious is playing Biggie in All Eyez On Me… this is phase one of the Hip Hop Cinematic Universe.

— Joey Rhode (@RufioJones) April 8, 2017
Tupac drops jewels on Biggie in the new, official trailer for the 'All Eyez on Me' movie https://t.co/1NvduWnt8K pic.twitter.com/bt6aV3EjU9

— XXL Magazine (@XXL) April 6, 2017