Starting from humble roots, hip-hop has grown from the creative outlet of underrepresented black minority living in South Bronx, New York, in the late 1970s to a highly successful commercialised business that in 2000 grossed over $1.8 billion in sales in the United States alone. Hip-hop is not only successful in the United States but also, its influence has permeated the entire planet, becoming a global creative and economic force.
Hip-Hop music created a community, a standard with a message which went up against urban destitution, bigotry, and developed a cult following due to the genres connection with the people that followed it like a religion. In any case, nowadays I've seen many artists disregarding different artists with a goal that they could get some consideration or may get more respect on their tracks. Hip-Hop music developed as a local, underground alternative to the mainstream with a message which confronted urban poverty, racism, and a growing sense of economic abandonment.
Initially, hip-hop was the voice of the African-American people. A few critics claimed that the commercialisation globalisation of hip-hop music might weaken its message so that the genre might no longer remain the voice of the black community. In 1999, 'Fear Not Of Man' came out and the popular rapper Mos Def said: "We are hip-hop". This 'we' was used for the black people. Mos Def perceives the regularly growing base of hip-hop and later in 'Fear Not of Man' he said: 'Me, you, everybody,  we are hip-hop' to deliver a message that hip-hop no longer speaks exclusively about the black group. Hip-Hop now speaks to each one of the individuals who share hip-hop culture whether male or female, rich or poor, dark or white, American or remote, etc.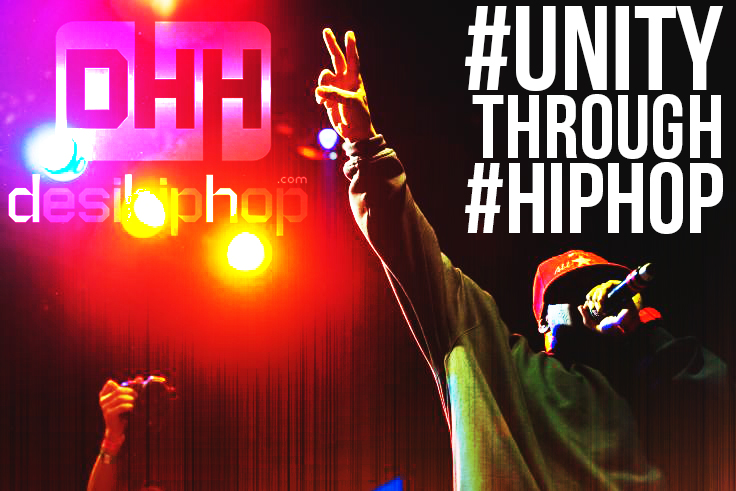 Desihiphop.com is an organisation that believes in wholeness, friendship and leadership. In the past few months, a lot of artists dissed other artist and started blaming us for the bad. We have nothing against them as each individual has its own opinion, if one one of our contributors doesn't like your music, that;s his decision, he/she doesn't have to live your music.  If you are an artist, Last month, We saw a few artists write some foul things about us and even shared abusive content on social networking sites that targeted us. These things will not take away from our goal of building a platform for the culture we love so dearly, in fact, we feel even motivated to continue doing what we live to do, so thanks.