Desi Hip Hop is growing in India and it is growing at a fast rate. There are a tonnes of releases every week and at Desi HipHop, we try our best to watch out and listen to every one of those. Below are hot 5 Hip Hop tracks we're feeling this week at DHH HQ.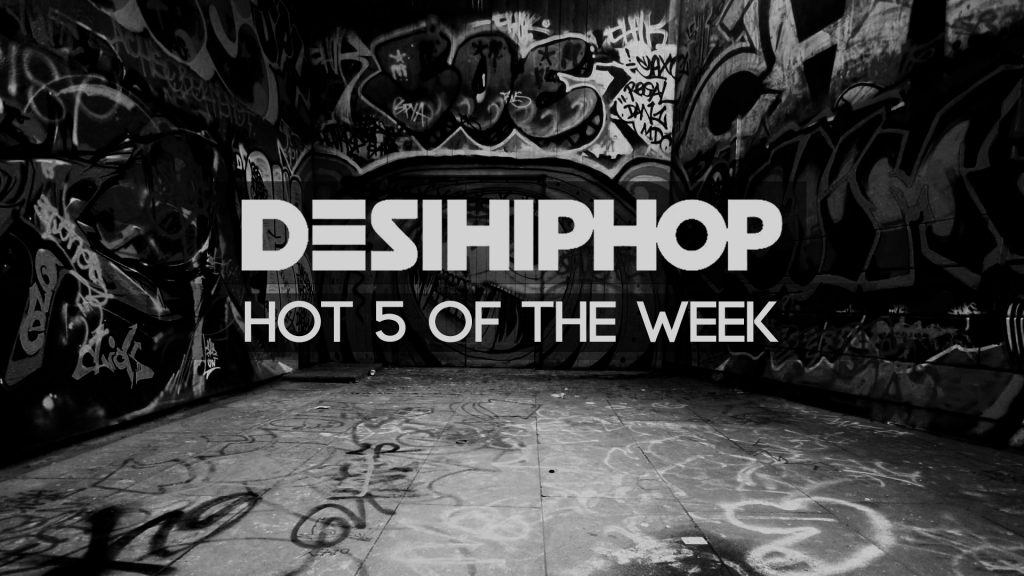 5. ALL THE WAY UP (BRUMIX) – BRUTAS
'All The Way Up' by Fat Joe & Remy Ma came out and instantly became a hit. Many artists remixed it worldwide. Rahul Marwaha who is kn0wn as Brutas in the underground remixed the OST to create a "Brumix" which features Infinity who's real name is Janmeet Singh. Punches & smart bars like "Suna KDM par game khedan da hai ni time" are filled in this track.
 4. RESPECT OVERDUE – ROB C
Rob C released 'Respect Overdue' in a collaboration with Deep Bal aka Sound Shikari who produced the instrumental for him. This track is full of punches like any other Rob C's track. Bars like "Mera move F5, fly like a G6
Tu mere layi housefly, mere views from the 6" are the ones that you should lookout for. Video was shot and edited by V.R. Creatives.
3. MAUT – J19 SQUAD
"Maut" starts with misshaped Pop-Rock guitars to make a musicality. Harsh's vocal layer is being played out of sight which is panned to turn in stereo mode. Hook comes into clear the billows of disarray that it's a blend of verses which are about strict demise and about how their music is slaughtering their haters from within. The video of this track was taken care of by Dhruv Records and was shot in the night to keep the darker feel of this single. Everything related with the video like set, areas, edges and props is credited to Dhruv Records.
2. PAAPI ADMI – RAGA
Ravi Mishra who is also known as Raga is no new name here. He released 'Paapi Admi' yesterday and his fans started putting efforts instantly to make this one a hit. Raga has used the instrumental of Kanye West's – BLKKK SKKKN HEAD to create this piece. "Mein paapi aadmi paap mera kaam hai, Mein jese illuminati tere saamnay" is just a demo of what he has done on the track. Ashar gave this track a little bit of motions by creating a small graphical video.
1. WARM UP SESSION – RAP DEMON
Abdullah did justice to the beat by ripping it off from it's unique shape. 'Warm Up Session' starts with rhymes in English and gradually travels into Punjabi while coming towards the end. Strange 'Satanic Laugh' of Rap Demon has been named at the right places. The video that he has discharged this track with is a solitary point video with a highly contrasting channel over which gave 'Warm Up Session' a more darker feel. Music generation, composing process, sound programming, shooting and altering was altogether taken care of by only him and trust me, these errands are difficult to do.