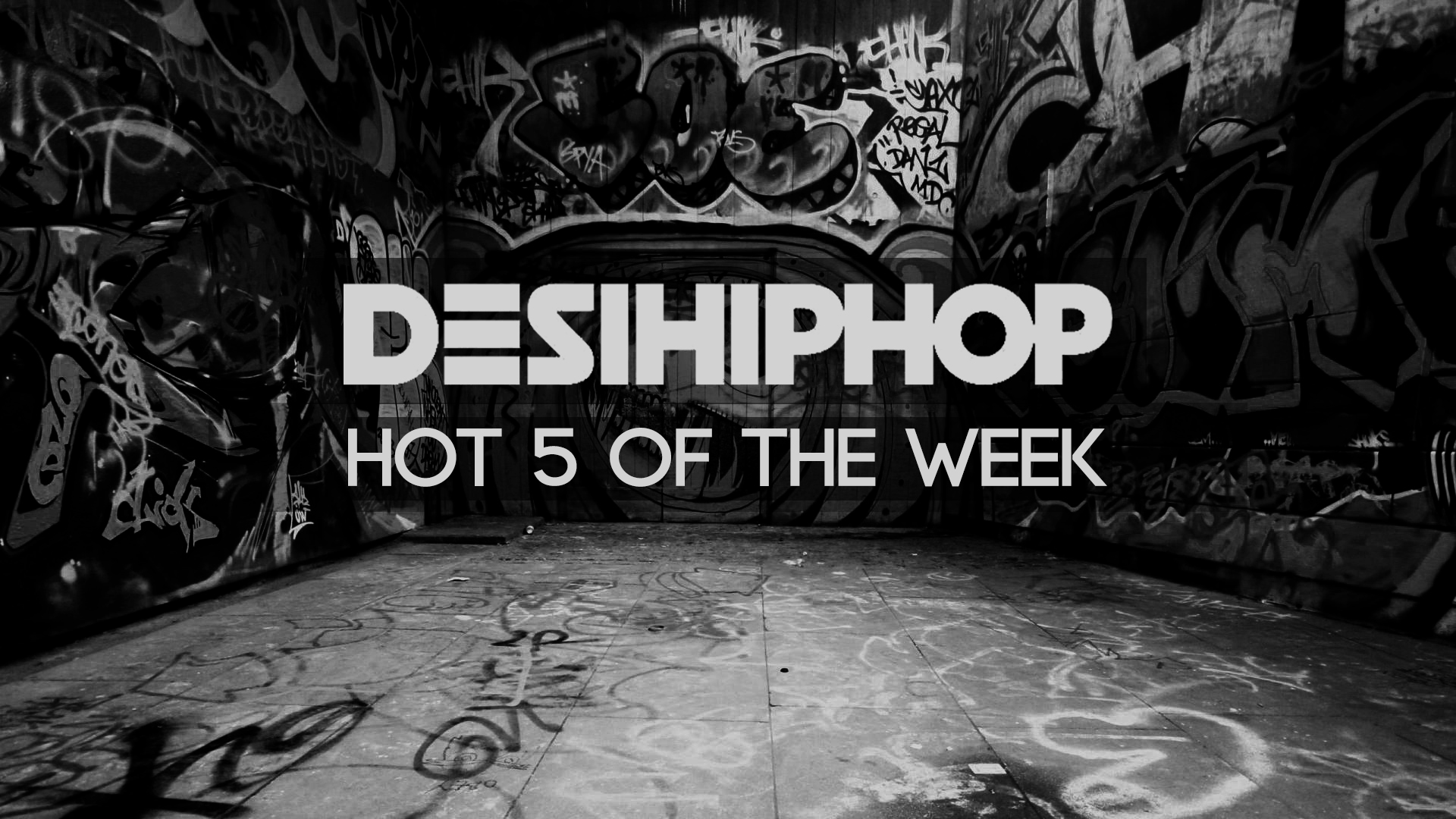 Desi Hip Hop is growing in India and it is growing at a fast rate. There are a tonne of releases every week and at Desi HipHop, we try our best to watch out and listen to every one of those. Below are hot 5 Hip Hop tracks we're feeling this week at DHH HQ.
1- Ooouuu #KKG (Remix) – Sikander Kahlon
Sikander Kahlon is known for his sense of using rhymes and smart bars in his music. 'Ooouu (Remix)' is all about punchlines & bars like "Rap Karaan jad, Aave aandhi/ Godse vangu billo te shoot karaan Gandhi", "Mainu paise di ae bhook te tu rakheya fast" & others. This video was shot by Romi Kahlon (The Visual Team) and he has done an amazing job to keep that raw feel in the video.
2- Rimjhim – Puneet Kohli x Marshall x Main Dope
This hot single which features Puneet Kohli & Marshall who's considered as a part of his untitled team. Another rapper who they've introduced with themselves is Main-Dope Malhotra. Puneet told us how the sound of this track is going to be in our previous interview with him to which he replied: "Our fans and friends were demanding a track from us that they could play in clubs and have a good time". This is a must watch for everyone and that's why it is on our Hot 5 list.
3- Shattered Dreams – Mumbais Finest (Ace)
Ace from Mumbais Finest drops 'Shattered Dreams' featuring RAH aka Rahsan Scott. The lyricism of the track backs up the fact why Ace calls himself Mumbais Finest and 'Shattered Dreams' is probably one of the best examples of how to structure your track.
4- All Da Way Up (Punjabi Remix) – Ali Kaz
Ali Kaz' latest remix 'All Da Way Up' features Fat Joe's vocals on the hook section which is the same as it was in the original sound track. But, he decided to change all of the original verses by recording himself over the instrumental to give it an essence of a proper remix with some originality & some improvisation. No 'Punjabi Remix' is complete without Tumbi or Dhol being played in it. Right? Kaz added Dhol to his remix which gave it a North Indian touch. He went hard on the people who hates him by spitting lines like "Yaaran de roop ch main gaddaaran nu pehchaanda" & others.
5- Ankhiyaan – Raxstar & Kanika Kapoor
Raxstar & Kanika Kapoor are here with a perfect collaboration 'Ankhiyaan' for you all. 'Ankhiyaan' is all about struggle that two people face in a bad phase of a relationship which leads them to the ultimate heartbreak. This is a melody driven track which features Kanika on the hook. Raxstar's storytelling is something that is amazing. Strings sections in this instrumental gives this track an emotional touch. Lines like "I know you felt that pain like I shot you with a gun, So, strangers is what we must become" are definitely gonna take you to a emotional roller coaster ride.