A crew acts as a retinue and plays an essential role in the journey of an artist towards achieving their desired goals. They start their journey together and share many ups and downs to make a mark in their career. Each city has its set of favourite crews. In this article, I'm talking about the Delhi's hottest crew that create a lot of heat in the desi hip-hop scene.
1. SEEDHE MAUT
Seedhe Maut is a rap duo from New Delhi which has Encore ABJ and Mc Calm in it. While Encore spits in Hindi, Calm takes over the English verse. Last year we saw an immense growth in their career and they are getting a lot of love from their fans as well. Starting their career as Rap-Battlers in Spit Dope Inc., no one thought they would get so much love and respect from the scene. Their tracks have something unique which gets everyone gets involved.
We saw Encore do a track in Sikander Kahlon's album 'Mohali Messiah 2′. You can see a certain energy in them while performing live gigs. The way they play with words is impeccable. Recently, they dropped their 'Seedhe Maut Anthem' as well which is one of the best tracks to happen in the Delhi Underground Scene for a while.
2. KHATARNAAK HIP-HOP COLLECTIVE
Khatarnaak Hip-hop Collective is one of the finest hip-hop crews that I've witnessed in the desi hip-hop scene ever. The crew is mostly known for their street talk and each and every track from this crew depicts their lifestyle. Each individual from this crew has its own style that makes their sound one of a kind.
The crew comprises of Jinn, Tapas, Shan Krozy, Sun -J, Crost Out to name a few. This crew includes rappers, B-Boys and Graffiti artists. Tracks like 'Kamina Mode On', 'Never Be The Same' and 'Time' have proved that they deserve a mass audience.
3. THE CAPITAL CREW
The Capital Crew (TCC) has Palash Bhise aka Splash who deals with vocals, music production, and video post production, Monti Sharma aka Mon-T is a rapper and Daniel from Darjeeling who handles the film production and photography.
The three met at Palash's studio in Sarita Vihar, New Delhi when Daniel and Mon T were facing financial issues. After completing his audio engineering from Abu Dhabi, Splash decided to take his music more seriously and decided to move back to India. All three found comfort in each others company and they decided to visualise a common struggle: "Form an alliance, a movement, an outlet for expression and means of survival in this cold and ruthless industry".
The crew aims at producing some great sounds, backing it up with visual interest, pushing their breaking points and learning every day. They plan to give these sound and video administrations to different specialists and business people who need to do anything around those lines. Live performance is an essential part and exclusively the essential wellspring of real wage for a musical act and the boys at TCC understand this fact that putting up a live show will have you on your feet in sync with the funky grooves and honest and meaningful lyrics.
4. 2 Shades
2 Shades is one of the oldest hip-hop duos with Slyck and Zan. They both come from different backgrounds and lifestyle which can be seen in their tracks. Slyck is more of light shade where as Zan prefers to be in the dark shade. Zan is half Sudanese and half Indian due to which he faced many difficulties while living in the Indian society.
Zan is currently living in Khartoum, Sudan and working with capital radio 91.6 FM and Slyck is in Mumbai, India getting his Masters as well as being active in the scene right now. We as a fan want them to drop a track as soon as possible.
5. Poetik Blizzards
Poetik Blizzards
 is a rap/producer duo from
Delhi.
They have been involved in the scene since 2014. The duo has two members, rapper 
Sukrit who spits in Hindi and producer Noran.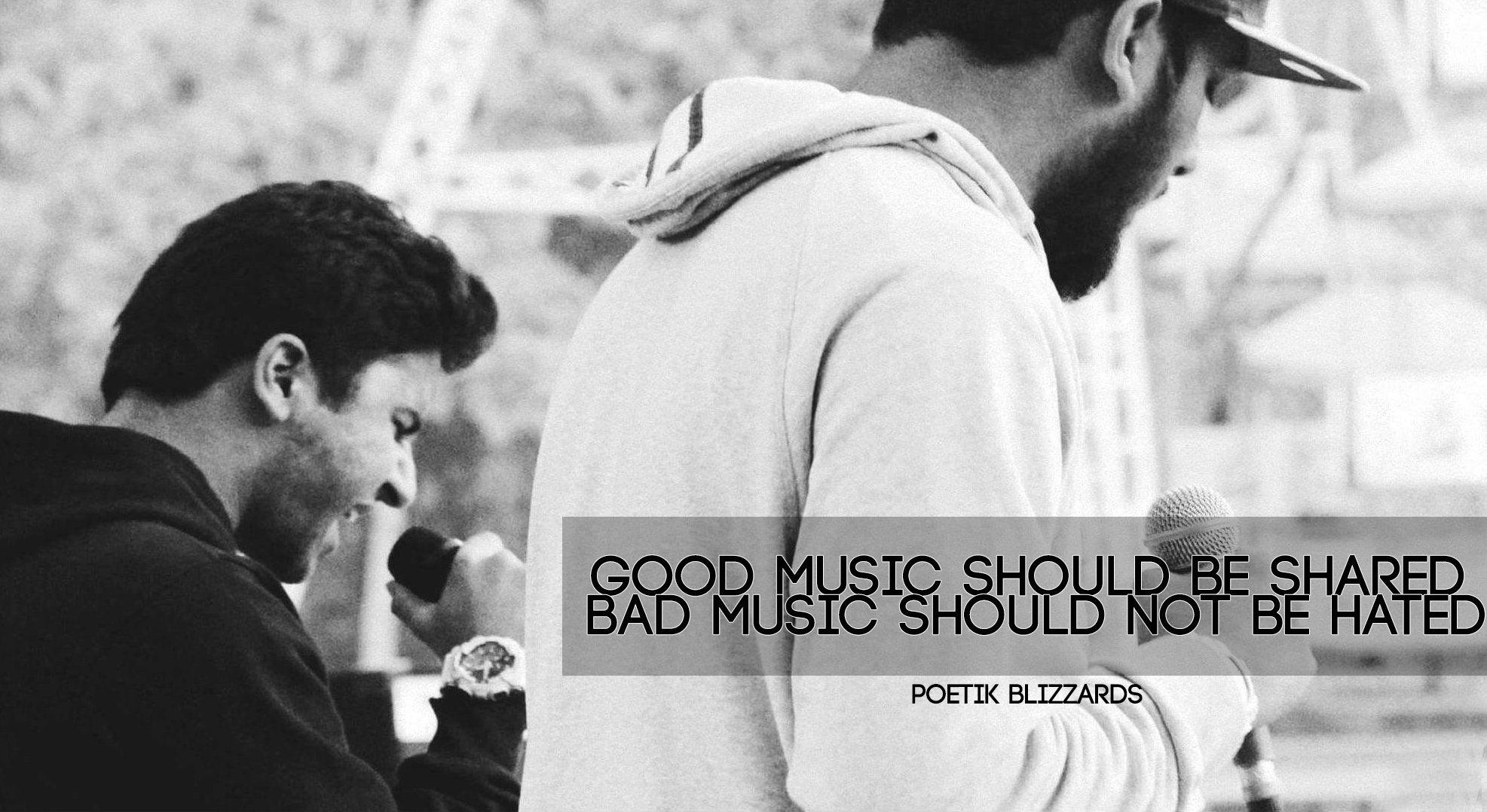 As the group started out, both Sukrit and Noran used to rap. Noranuse to spit in English but since 2016 he started focussing more on production and beat making. Sukrit would also write some English raps but now seems tp be more into the Hindi scene now. Sukrit is also into rap battles and can be seen battling with
E.M.F
 and 
Yungsta
 in
Spit Dope Inc
events.
These are just a few of the Crews, Groups and Duos involved in the scene! We will be back with more names from different scenes, so tell us who is your favourite!