Sady Immortal is a well-known and in my opinion a valuable member of the Desi Hip Hop underground community. I started making this list as top 5 of Sady's but ended up writing 10, from this you can imagine that how good is he when it comes to rap, and how hard it was for me to choose just 5 of his verses.
His way of rapping so different from others that you can tell it's Sady just by hearing a single word his verse, it's so unique. Sady does not show himself very often on social media platforms but he makes sure that whenever he does show himself, it's with a bang. He has always been a pivotal part of Kala Kurta Gang, according to Sady it's Sikander Kahlon who motivated him to rap, who always says "Sady you can do it" whenever he used to hold the mic for fun.
We should thank Sikander Kahlon for pushing Sady to rap, without that, who knows… He first emerged on the scene when Kahlon decided to do a project with him, Kahlon called him up for "The Punjabi Trap" mixtape.
Sady doesn't have any solo tracks as yet, but he has been a part several Punjabi rap songs and just by being a "part" of a song he makes his mark in the industry. He told desihiphop.com in his interview that he is planning to release his first mixtape this year. Meanwhile, let's take a look at his best verses.
'All the way up' (Remix)- Sikander Kahlon and Sady Immortal
No wonder why Kahlon and Sady chose this song, this track is just too hot to handle and the same is with the sady's verse. The song took off with Sady's voice and from the first word he had listeners tied up to the song. His whole rap is unreal but the last line of his verse goes right to that part of the brain where the attitude is processed. "Banda mai down to earth but, all the way up."
'Ridin' Sikander Kahlon and Sady Immortal
This song is from Sikander Kahlon's mixtape called "The Punjabi Trap". This mixtape is the first time Sady has recorded something officially. This song displays immortals rapping capabilities, he has a variable flow on this one and it's so good to hear that I didn't want his verse to finish but "koi gal ni" we have more of his songs to hear.
'Show Starter' – Sikander Kahlon and Sady Immortal(Again)
This is his yet another song in which he showcases his individualistic style of rap. This one also is a part of Sikander Kahlon's mixtape and I must say that they both compliment each other's rapping style. What else can I say Immortal is my favourite rapper right now.
'Luxury Bars' – Sikander Kahlon and Sady Immortal
It seems like Sady and Sikander are two inseparable rappers and whenever they work together they make sure to bring the best out of each other, but on this one Sady outperformed Sikander I feel. The way Sady plays with the beat is unrivalled. The manner in which he raps is itself is very witty, the content of the rap is secondary to it.
'Butter Flow' – Sikander Kahlon and Sady Immortal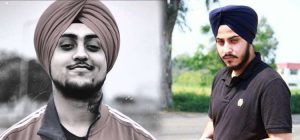 This song is also from the "The Punjabi Trap" mixtape of Sikander Kahlon. Sady shows his true colours in this song, wordplay, punchlines rhymes everything is native Immortal. The video of this song was removed from by YouTube, considering this song a copy of the original "Truffle Butter by Nikki Minaj". So, they had to re-upload the video with changed pitch so that they don't get into trouble again. Cheeky.
'Keeta Yar Remix R.I.C.O' – Sikander Kahlon and Sady Immortal
R.I.C.O is originally Meek Mill's song featuring Drake, Sikander and Immortal created yet another masterpiece by remixing this song. Immortal starts his rap slaughtering the beat then Kahlon murdered it after him. It is one of the best remixes I have ever heard.
'No Flex Zone' – Sikander Kahlon, Navi Virk and Sady Immortal
'No Flex Zone' originally belongs to Rae Sremurrd, Kahlon, Navi Virk and Immortal has done dope raps on this beat. This verse of Sady showcased his real capabilities. Sady can murder any kind of beat and this verse of his is a representation of the same, he does the optimal justice to it and never disappoints.
'Hadd' – Veer Karan ft. Sady Immortal and Sikander Kahlon
This is a song produced by Veer Karan, he himself is a master of his art and has collaborated with two pioneers of underground desi hip hop. This whole is on a whole other level, soothing yet was too much attitude. In this song, Sady is asking "Billo" to stay within limits. If your girlfriend ever tries to interfere in your life just, let her hear this song, but first you listen to it,
'Machine Gun' – Sikander Kahlon and Sady Immortal
As the name of the song is Machine Gun, so we can not expect it to be slow and smooth. This song is the outro of Kikander Kahlon's mixtape "The Punjabi Trap". Sikander does total justice to the name of the song, but the Sady Immortal went way too hard on the beat making this his best rap in my opinion. This track makes me wonder the limits of this man, it seems like Immortal was born to rap.
'Mainstream' – San Cha ft. Uday Bakshi (KKG Remix)
Now, this is a song with a different story, this song originally belongs to other underground artists named "San Cha" and originally named as "F*ck Mainstream". Kahlon and Immortal liked this song so much that they decided to remix it and in this track Sady is not rapping in his conventional flow, it was a bit different to his others or we can say, this one is cool amongst his hot verses. Like a lion trapped in a cage is still a lion, Immortal's tepid verse still shows the hotness it carries.